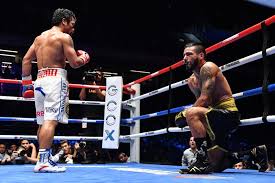 WBA Welterweight Fight of Champions
Last night, in Malaysia's capital Kuala Lumpur at the Axiata Arena, Manny "Pacman" Pacquiao (60-7-2, 39 Kos) in a convincing fashion earned his 60th win by dismantling Lucas "The Machine" Matthysse (39-5, 36 Kos) with a dominant performance.
There was a lot of talk about how old Pacquiao was and what he was attempting to do in challenging a stronger younger opponent in Matthysse but after last night's performance some naysayers will probably have to reconsider their thoughts on where Pacquiao stands at this later stage in his career to date.
Pacquiao was focused; patient, strong, fast, and determined to put on a good show last night for all his fans. He controlled every round and showed no fear of his worthy opponent. Manny just displayed what he always knew he possessed. There are levels to this boxing sh*t and Matthysse found out the hard way what it meant to step into that squared circle with Manny.
As tough and strong as Matthysse was, I believe, he mentally and physically got broken down, round by round by Pacquiao. Matthysse showed absolutely no punch resistance at all, which to me was very unexpected.
Pacquiao was able to drop Matthysse in the third round, fifth round and finally close out the show with a seventh-round knockout. Nuff said!
With this win Pacquiao became The New WBA "Regular" Welterweight Champion and put the rest of the Welterweight Division on notice once again.
The "Pacman" is not done yet, now who wants next??
Congratulations on your victory Champ!!
Blaze
On The Watch "Its All About Manny Pacquiao vs Lucas Matthysse"