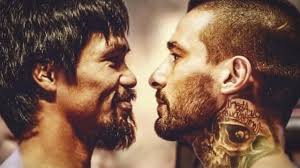 WBA Welterweight Fight of Champions
It's official; Manny Pacquiao (59-7-2, 38 Kos) will be challenging WBA "regular" Welterweight Champion Lucas Matthysse (39-4, 34 Kos) on July 14, 2018 in Malaysia's capital Kuala Lumpur at the Axiata Arena.
Manny, in my eyes is out to prove to all the naysayer's and the haters that he's still got it despite his recent controversial loss to Jeff Horn. Hand picking Lucas Matthysse as his latest opponent proves just that. Matthysse is no slouch in that squared circle. This Dude can crack and box with the best of them while still fighting at a high level.
Real talk, this is a dangerous 50/50 fight for either combatant. At this point in their careers both are still very strong with knockout power. Their aggressive styles mesh really well and should make for a very thrilling bout.
This bout will undoubtedly be Matthysse's most important of his career considering he will be facing an eight-time Division World Champion in Pacquiao. This also being his first defense of his recently acquired WBA "regular" Welterweight Belt.
A lot will be riding on the line here for both fighters on July 14, in Malaysia. Matthysse has earned himself a version of a title that he is not ready or willing to part ways with by any means necessary. As for Paquiao this is a must-win situation. He needs to show up and deliver a very convincing performance along with a win, if he plans on continuing to compete at this level and remain relevant in the Welterweight Division.
The momentum at this present time is on Matthysse's side. He is the Champion. A win for him could propel his career in the Division for the future. Pacquiao requested this bout now it's up to Matthysse to silence the "Legend" and Future Hall of Famer by successfully and convincingly retaining his title.
That being said I personally anticipate this bout to be very competitive, so tune in Saturday night July 14, 2018 from the Axiata Arena in Kuala Lumpur, Malyasia, courtesy of ESPN.
Blaze
On The Watch "Its All About Manny Pacquiao vs Lucas Matthysse"