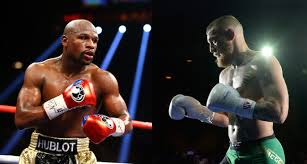 "The Money Fight"
I never thought this day would actually come to fruition? When talks first started swarming around I thought this was a big joke going around in the Boxing Community but truth be told Floyd "Money" Mayweather Jr. and Conor "The Notorious" McGregor is an official realistic thing. REAL TALK.
Mayweather the undefeated greatest fighter of his generation is putting his legacy all on the line vs Lightweight Champion McGregor in a pure Boxing match.
Judging by the four cities, three countries World Press Tour outcome, Conor's fans and supporters were out in abundance at every stop they made and definitely had the masses thinking that he would be the favorite to win this "Super Fight". However, like Floyd said on that stage "the fans can't fight for you".
This is a fight between two "warriors" from two completely different disciplines, Boxing and MMA.
On one side McGregor only 29 years old is regarded as one of the best in mixed martial arts. A two Division Champion in the UFC and currently holding their Lightweight Title. He is a stronger, larger, longer limb, taller and will most likely be the heavier fighter between the two come fight night.
Mayweather now 40 years old (but looking 30 years old) will be reentering the ring for the first time since September 2015. When considering all the pros and cons that Conor possesses you have to keep in mind some major factors when talking about Mayweather, A former 5 Division World Champion. The Best Defensive Boxer of All Time! Speed and accuracy are still well intact. Boxing IQ and Ring Generalship cannot be match even at this point in his career. The fact that he's been doing this for 21 years as a profession at the top level speaks volume when you're thinking about going against this Man. Undefeated at 49-0.
Listen I respect Conor for the great fighter that he is in his respectable field but thinking you're going to jump ship and conquer Mayweather at his own game is ludicrous. I have to keep it real though; every fighter has a punchers chance on any given day and I know McGregor is no punk or your average fighter by any means but this ain't MMA this is strictly Boxing and Mayweather's code is not that easy to break. 49 (Professional Boxers) have tried and all 49 have failed.
Will "The Notorious One" concede to the Mayweather puzzle or will he be the one to crack the Da Vinci Code and hand Mayweather his first lost? Win or lose McGregor will be part of History along with Mayweather on Saturday August 26, 2017 at the T-Mobile Arena in Las Vegas. Your thoughts on this one?
Blaze
On The Watch "Its All About Mayweather vs McGregor"