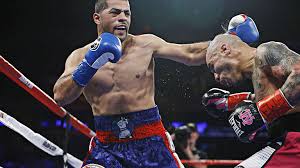 WBO Super Welterweight Championship
Miguel Cotto (41-6, 33 Kos) promised the fans a surprise last night in his farewell final bout into retirement at the Madison Square Garden in New York. Instead, it was an early Christmas gift to Sadam Ali (26-1, 14 Kos) in the form of the now new WBO Super Welterweight Champion.
Miguel Cotto ended his soon to be Hall of Fame 16 year career last night with a close 12 round unanimous decision loss to an underdog in Sadam Ali. Many thought this was going to be an overmatched type bout for Cotto to finish up his career but lets be real this is boxing anything can happen in that squared circle and Sadam made sure to silence the critics and seize the opportunity with an iron fist.
Cotto came out to give his loyal fans a good show. He looked good out there. He fought a competitive fight but I gotta tip my "B" hat to Sadam for never backing down or feeling overwhelmed by the amount of love that was in the air that night for Cotto.
Sadam stepped his game up last night and performed in an impressive manner. He looked strong, comfortable and smart within that squared circle. He had nothing to lose and everything to gain. He just defeated a living legend in Miguel Cotto in his first time out in the Super Welterweight Division. Your stock has just risen overnight. That's something to be proud of Champ.
Win or lose Miguel Cotto was a warrior through thick and thin who had an amazing career. Retirement is just another chapter in your life; enjoy your family along with the fruits of your labor.
Blaze
On The Watch "It's All About Miguel Cotto vs Sadam Ali"