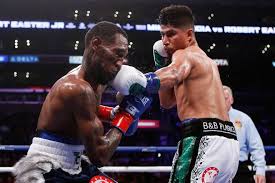 Lightweight Championship Unification
Last night, at the Staples Center in Los Angeles, Mikey Garcia WBC Lightweight Champion (39-0, 30 Kos) successfully unified two of the Lightweight Titles by administering a masterful beat down to IBF Lightweight Champion Robert Easter Jr. (21-1, 14 Kos). Real Talk!
To me the key to the fight last night was patience and Mikey, in being the much shorter boxer of the two, had to make sure every shot counted by being precise and accurate with every effort. There are levels to this boxing sh*t and Mikey proved it once again last night why he is above all opponents to date.
Now don't get it twisted, Robert, an exceptional and very worthy opponent was gamed last night and came to fight but was simply out-boxed and out-smarted by a more seasoned boxer. Robert to say the least, had absolutely no answer to Mikey's stalking, aggressive attacks. Once Robert got put down late in the third round he felt Mikey's power and became the prey from this point on.
To me, Mikey is showing us time after time why he deserves to be on that Pound-for Pound list and why he's determined to be the, best. Moving from Division to Division and successfully beating the best fighters is a statement within itself.
Congratulations Mikey on unifying two of the 135-pounds Titles. You truly are a Champion of Champions.
That being said, your call out of IBF Champion at the 147-pound Division Errol Spence Jr. as your next possible hit, might just be the ultimate challenge you've been looking for. Now I'm curious to see if the so-called "Boogie Man" of the Welterweight Division answers your call out and oblige your request.
Blaze
On The Watch "Its All About Mikey Garcia vs Robert Easter Jr."