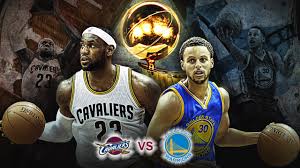 2018 NBA FINALS
The number 2 and the number 4 seed representing their respective coast are set to do battle this Thursday night May 31, 2018.
For the fourth consecutive year, the Reigning Defending Champions Golden State Warriors will once again go head to head against the Cleveland Cavaliers in another dual of the NBA Finals. Both teams needed a game 7 this time around to reach the NBA Finals. King James and his newly revamped squad will be looking for some payback for failing to beat the Warriors last year but this year "Hampton's 5" (hopefully with a healthy Andre Iguodala) seemed to be clicking at the right time.
Real Talk, I can't front at the Cavaliers plays to date, LeBron's got them Boys thinking they're the sh*t! The squad that he's rocking with is a challenge within itself. Aside from that Bron Bron has been playing out of his mind to bring this team to the Finals.
That being said the Warriors are chasing history with their own squad too. It's been a bumpy road compared to their previous Championship run but truth be told them Boys look ready and loaded for the challenge ahead. Them Boys came from being down 3-2 to the Houston Rockets to secure their spot to the NBA Finals.
Injuries played a part on both teams throughout the regular season but still here they are again adding their mark to the history of the NBA Finals in being the only two teams to meet in the Finals four straight times in a row, something like an ever-ending rivalry.
The Warriors are slated as heavy favorites to repeat as the 2018 NBA Champions against the Cleveland Cavaliers but actions speak louder than words, so tune in Thursday night May 31, 2018 and see which team will prevail and get it popping under the bright lights of the NBA Finals.
Blaze
On The Watch "It's All About NBA FINALS 2018"