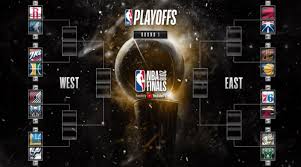 2018 NBA PLAYOFFS
Once again, this NBA Season was must watch TV from start to finish. REAL TALK!
Uncontrollable injuries and sudden surprising trades from East to West shifted the balance from good to bad depending on whom you've been rocking with from the jump. Whichever way you want to look at it two new faces from East to West claimed "Top Spot" at the end of this Season.
This year Eastern Conference No. 1 Seed is none other than our own Canadian Team The Toronto Raptors that finished the season with an impressive (59-23). This year The Raptors played with a different type of swag and competitive demeanor that wreaked havoc throughout the entire league. Them Boys are seriously aiming for that spot in the Finals to show the world what the North is all about. Real Talk.
The journey to the Finals won't be a cakewalk judging by some of the new and old faces attempting to derail The Raptors on their quest. The bang-up Celtics, the young gunners of The 76ers, The Cavs and King James, The Pacers, The Heat, The Bucks and the 8th seeded Wizards all have a say in to how this Eastern Conference might play out.
Representing the Western Conference and the No. 1 Seed throughout the entire Playoffs is none other than The Houston Rockets with their imposing season of (65-17). Them Boys strait up snatched that No. 1 Spot from the Defending Champions Golden State Warriors (58-24). This year might just be theirs for the taking but judging how the West likes to roll I wouldn't count the Defending Champs out just yet. The Warriors are walking into this year NBA Playoffs wounded but not ready to concede just yet. The Blazers, The Thunder, The Jazz, The Pelicans, The Spurs and the 8th seeded Timberwolves are all aiming to disrupt this year NBA Playoffs.
With this entire changeable outcome, I can't wait to see that ball drop Saturday April 14, 2018 come Game Time!!
Tune In!!
Blaze
On The Watch "It's All About NBA PLAYOFFS 2018"