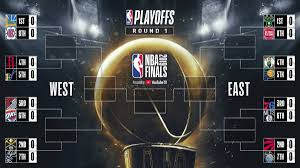 2019 NBA PLAYOFFS
Once again, this NBA Season came down to the wire with teams aiming to position themselves for some tough matchups ahead of the Playoffs.
New faces have squeezed in this year to make the NBA's version of the "sweet 16". The struggle for "Supremacy" will be tested on both coasts.
This year Eastern Conference No. 1 Seed overall is the surging Milwaukee Bucks (60-22). Their record speaks for itself. They are the only team to finish with 60 wins this Season. Real Talk! The Bucks accomplished that feat in style dominating teams with superior offence and defence. With Giannis "The Greek Freak" Antetokounmpo leading the way with his MVP type play, we might just see a new team representing the East come the NBA Final.
That being said, our own Canadian team the Toronto Raptors are not quite ready to succumb to the Bucks just yet. The Raptors once again finished with an impressive record of (58-24). The second-best record overall. They too are battle tested and now have their own equalizer in Kawhi Lenord to help them get to the promised land of the NBA Finals.
The Eastern Conference teams are getting better and stronger year by year so the 3rd seeded 76ers (51-31), the 4th seeded Celtics (49-33) and the 5th seeded Pacers (48-34) are all determined to disrupt the outcome of the Eastern Conference Playoffs one way or another.
Representing the Western Conference with the No. 1 Seed is the Defending Champions Golden State Warriors (57-25). The Warriors had to battle a little harder this year but still managed to secure the No. 1 Seed over the rising play of the Denver Nuggets (54-28). As usual the Western Conference is competitive from 1 to 8. Real talk! The Blazers (53-29) have the 3rd seed while the Houston Rockets (53-29) have regained their mojo with their MVP candidate James Harden balling out of his mind. James definitely has a chip on his shoulders and the only way to release the stress is to have a good Playoff run all the way to the Finals. The Jazz, the Thunder, the Spurs and the Clippers are all in it to win it. The Warriors are looking to "three-peat" and cement their names in the record books but first must get through this Western shoot out.
Tune in Saturday April 13, 2019 and witness the outcome unfold right before our eyes. Game Time!!
Blaze
On The Watch "It's All About The NBA PLAYOFFS 2019"