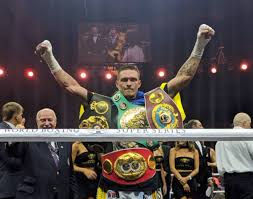 The World Boxing Super Series Cruiserweight Final
Tonight, at the World Boxing Super Series an Undisputed Cruiserweight Unified Champion was crowned at the Olympic Stadium in Moscow.
Oleksandr Usyk (15-0, 11 Kos) Cruiserweight WBC and WBO Champion handed Murat Gassiev (26-1-1NC, 19 Kos) Cruiserweight IBF and WBA Champion, an unbelievable schooling on the highest stage of their career. Real Talk!
Now I personally anticipated this bout to be a hell of a competitive one but to my surprise it was painfully one sided for Usyk who dominated his worthy opponent Murat from round 1 to round 12.
I have to tip my "B" hat to Usyk for displaying the right game plan to a "T" and dismantling his opponent in such fashion. Murat had absolutely no answer to Usyk's offence and slick movement. I was quite disappointed on how Murat approached this fight. To me he seamed off in some way and not in tuned with what was going on inside that squared circle. Which was quite uncharacteristic of him.
Usyk simply out-boxed, out-skilled and out-performed Murat to a decisive easy victory to win the Muhammad Ali Trophy and becoming the Undisputed WBC, WBA, WBO, IBF Cruiserweight Champion of the World Boxing Super Series. Nuff said.
Congratulations Champ on a job well done.
Blaze
On The Watch "Its All About Oleksandr Usyk vs Murat Gassiev"