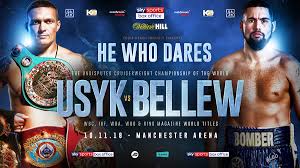 Undisputed Cruiserweight Championship Challenge
Tony Bellew (30-2-1, 20 Kos) has officially accepted Oleksandr Usyk's (15-0, 11Kos) challenge and is now set to meet the unbeaten Undisputed Cruiserweight Champion on Saturday November 10, 2018 at the Manchester Arena in Manchester, England, for the right to claim the Ring Magazine, IBF/WBA Super/WBC/WBO Titles.
Bellew , who's been enjoying himself as of late, is coming off of two consecutive knockout wins over former two-Division World Champion David Haye. These are two wins against a proven warrior and I personally did not expect Bellew to come out on top but to my surprise he convincingly battered and conquered David Haye, who by the way was the favorite to win.
If there is one thing I learned from Bellew's last two outings is to never underestimate him again. He has a way of defying the odds stacked against him and always finds a way to steal the win right from under your eyes. Real Talk!
Once again, Bellew is seen here as the underdog who will be facing his stiffest challenge to date in Usyk the first Boxer in History to hold all 4 major World Championships in the Cruiserweight Division.
I personally think that Bellew might be reaching a little too far with this one. To me Usyk is the total package with exceptional boxing skills that has troubled all 15 previous challengers into submission one way or another. What he may lack in the power department he well makes up in ring generalship while taking you apart for as long as the rounds continue.
That being said, Bellew is not a walk in the park opponent. I would not underestimate this man come fight night. He may not be able to outbox Usyk but he certainly carries his own proven power and has a high Boxing IQ inside that squared circle. He moves fairly well and has a very good counter punch that does demand respect.
The Undisputed Cruiserweight King will be in a tough fight cause if there's one thing I've noticed about Bellew is that he's tough as hell and will not bow down easily.
Tune in Saturday November 10, 2018 on DAZN/Sky Sports Box Office and see who will walk away with all the Crown Jewels?
Blaze
On The Watch "Its All About Oleksandr Usyk vs Tony Bellew"