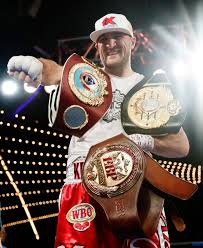 WBO Light Heavyweight Championship
After suffering two humiliating defeats to now-retired Andre Ward, a determined and now refocused Sergey "Krusher" Kovalev is on a mission to regain the top position in the Light Heavyweight Division once again.
Last night at the Theater at Madison Square Garden in New York, Sergey Kovalev (31-2-1, 27 Kos) had the opportunity to regain his first title he ever won, the WBO Light Heavyweight Belt back once again by defeating Vyacheslav Shabranskyy (19-2, 16 Kos).
On paper Shabranskyy looked like a formidable opponent to challenge and test Kovalev but to our surprise Shabranskyy found out the hard way that the so-called "Krusher" was not done yet. I've said this before and I'm gonna keep on saying it, there are levels to this Boxing Game and last night Shabranskyy was soundly out boxed and outclassed simply by a more seasoned and proven veteran fighter, hands down.
Sergey seemed to have gotten his swagger back by dismantling his opponent in less than six minutes. He knocked down Shabranskyy three times in the first round before the referee stopped the bout in the second round.
This was just what Kovalev needed, an impressive comeback fight with the WBO Light-Heavyweight Belt back under his waist. Congratulations on your emphatic win Sergey.
The road back to the top of the Division will not be an easy one. Dmitry Bivol holds the WBA Belt, Artur Beterbiev holds the IBF Belt and our Canadian Champion Adonis Stevenson has held the WBC Belt since 2013. The challenges are there and none of those Kats are easy marks but who will want to attempt at unifying the Division? All these Kats are talking a good game about it but who will actually do it?
Your thoughts on this one?
Blaze
On The Watch "Its All About Sergey Kovalev vs Vyacheslav Shabranskyy"