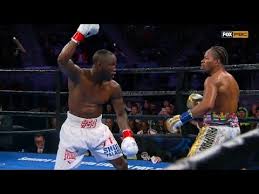 WBC Welterweight Title Defence
Last night at the Dignity Health Sports Park in Carson, California, Shawn Porter (30-2-1, 17 Kos) defended his newly acquired WBC Welterweight Title against a formidable opponent in Yordenis Ugas (23-4, 11 Kos).
It was a tight bout from start to finish that saw Porter successfully retain his WBC Belt with a split decision with the score of 116-112 for Porter, 117-111 for Ugas and 115-113 for Porter.
The score card doesn't tell the whole story cause this bout was very interesting and could have easily gone either way or to a draw if you ask me.
Ugas, the underdog, came out and executed his "game plan" and asserted himself quite well. His body shots were there all night, he fought smart and was under control. To me he was the stalker moving in on Porter with efficiency and accuracy.
To my surprise Porter was doing a lot more movement and fighting on the back foot while loading up way more on his punches. He fought under control but seemed to me a little more hesitant than usual. His typical aggressive style seemed to pop up in sporadic stretches unlike his customary approach. That being said he still fought under control but with less urgency from round to round.
Ugas may have come up short last night but he definitely showed the rest of the Welterweights that he belonged amongst the top in the 147-pound Division. Real Talk! He should keep his head up high and welcome all challengers ahead.
As for Porter, whether he believes it or not, he dodged a real close call last night. Holding on to that WBC Title might prove to be a tougher task than expected in the near future.
That being said, congratulations are still in order Shawn on securing your first tile defence.
Your thoughts on this one?
Blaze
On The Watch "Its All About Shawn Porter vs Yordenis Ugas"