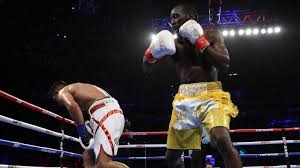 WBO Welterweight Challenge
Last night's Main Event at Madison Square Garden in New York City was a disappointing one: and not because of Terence Crawford (35-0, 26 Kos), but because of his opponent for the night Amir Khan (33-5, 20 Kos).
Khan talked that talk but definitely didn't back it up inside that squared circle. Khan came out the gate aggressive and fast but got caught nice and early in the first round and went down for an 8 count. From this point on it was clear that Khan was no match for Crawford.
As the bout wore on Khan was getting touched and broken down round by round. Khan looked weak and uncertain about how to proceed with the "Game Plan". Crawford was having his way inside that squared circle and was boxing circles around Khan making him look out of place at times.
The "End Game" was bound to come but due to an accidental low blow to Khan, his corner informed the referee that he wouldn't be able to continue. Just like that, the fight was over and Crawford retained his WBO Welterweight Belt by TKO in round six.
I personally expected a better effort from Khan but regardless of last night's outcome, the end result would have been the same with Terence getting his hand raised when it's all said and done.
Congratulations Champ now on to the next!
Blaze
On The Watch "Its All About Terence Crawford vs Amir Khan"