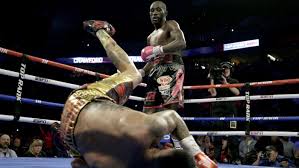 WBO Welterweight Championship
Last night at the CHI Health Center in Omaha, Nebraska, Terence Crawford (34-0,25 Kos) shut the place down in a spectacular fashion by dropping down previously unbeaten Jose Benavidez (27-1, 18 Kos) to the point of stoppage at 2:42 of round 12.
Benavidez who trashed talked his way into a bout with Crawford showed a lot of heart and durability throughout the fight but damn was I ever confused by their game plan! Benavidez taunted Crawford into a fight but didn't seem to have a plan "B" when Crawford got into his groove and started laying combination after combination on his ass round after round.
Don't get me wrong, I rate Benavidez as a very good fighter but last night proved that Crawford is truly levels above most competitors when they're inside that squared circle with him, Real Talk! Terence is that silent assassin toying with his prey waiting for that right moment to put you down. Henceforth in round 12 when he administered that timely snapping uppercut that took Benavidez straight up off his feet and straight down for an 8 count which then led to a flurry of unanswered punches until the referee officially stopped the fight. Nuff Said!
Last night, Crawford showed Benavidez and us fans that he truly walks it like he talks it. He specifically told Benavidez he was going to knock him out and he delivered as promised.
With this win Terence retained his WBO Welterweight Title and once again puts the Welterweight Division on notice that he's definitely looking for that work.
Who's up next?
Blaze
On The Watch "Its All About Terence Crawford vs Jose Benavidez Jr."