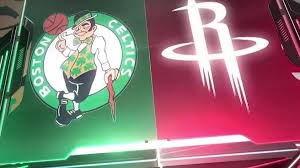 The NBA-Who's On Top?
We are at the Quarter mark for this year NBA Season and in a surprising fashion The Boston Celtics are the ones sitting at the top for the moment with a 20-4 record. Now considering losing Gordon Haywood to a frightening fracture of his left knee, I personally thought this season was going to be a wrap but Damn was I wrong cause them kats over there are balling out of their minds. Cleveland has regrouped as of late and has gotten back on track by winning 11 games in row to bring them back up to a respective 16-7 record. It's still very early in the season but I'm enjoying how the rest of the Eastern Conference is actually competing right now. Teams are definitely battling it out with no clear cut easy marks.
Although the Golden State Warriors are the Defending Champs and still the team to beat, the number one spot in the West at the moment belongs to the Houston Rockets with a 17-4 record over the Golden State's 17-6 record. It's a very close margin that Houston is hoping to maintain for as long as possible but real talk Warriors have yet to turn on the "Heat" and when they do the Western Conference might be in for a hell of a treat. Houston is balling and Harden is playing at another MVP type year once again. They are definitely looking like a team that could give the Warriors some problems along with the steady play of the Spurs 15-7 record as usual but only time will tell cause there are still lots of ball games to be played.
Injuries to various teams have hit the Western Conference in a big way, slightly changing the landscape over there. Definitely making things interesting so stay tuned in to all the action going around.
Blaze
On The Watch "It's All About The NBA-Who's On Top?"