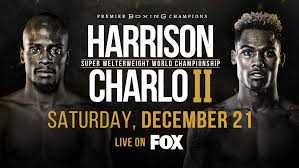 WBC Super Welterweight Challenge Take II
It has officially been announced.  The highly awaited rematch between newly crowned WBC Super Welterweight Champion Tony "Superbad" Harrison (28-2, 21 Kos) and Jermell "Iron Man" Charlo (32-1, 16 Kos) is set to take place Saturday December 21, 2019 at the Toyota Arena in Ontario, California.
It's clear from their latest press conference in Los Angeles that these two Dudes definitely don't like each other. The disrespect is real, and the "heat" is building up whenever they're in the same building. Real Talk!
Charlo wants that payback asap, that controversial loss to Tony ain't sitting well with him but snatching that WBC Belt from Tony won't be easy. Tony is out to prove that him beating Jermell last year wasn't no fluke. The "game plan" that he executed worked to his advantage duplicating the same result would definitely silence all skeptics out there hating on him.
That being said, Charlo is that hungry Lion determined to recapture that gold back by any means necessary. Jermell wants to put a hurting on Tony in a bad way. But as the saying goes, styles make fights, and Tony is a smart technical boxer that can easily disrupt an aggressive style like Charlo's when he's dialed in and his defense is on point.
It will be interesting to see whose "game plan" will prevail when it's all said and done. Trash talking aside these two combatants will have no choice but to step inside that squared circle and settle their differences one time live on FOX Deportes Saturday December 21, 2019 at the Toyota Arena in Ontario, California.
Blaze
On The Watch "It's All About Tony Harrison vs Jermell Charlo"