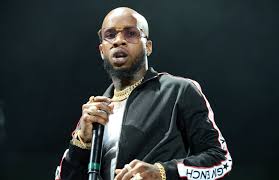 Canada has another hidden gem that's been killing the "airwaves " worldwide as of late. Tory Lanez is that Kat that's got the Rap Game and the R&B Game in a choked hold. Real Talk! Tory's one of those rare talents from up North that's made his mark in a major way. He's worked and grinded his way to the States and took the music Game by storm.
From his first mixtape in 2009 to his now second released album Memories Don't Die; Tory has showed an elevated dedication to his craft that has not gone unnoticed by his peers. Tory has been in high demand as a writer and as a feature from the who's who in the Game to date. His unique sound and style caters to all.
He's got the Radio play, the Internet, the Clubs and the Streets on lock. The Kat's got the goods to go Bars for Bars with the best of them and the right lyrics to serenade your girl while your back is turned away. Real Talk! Listening to his music you can clearly hear and see that he's studied the Game from the ground up. Old School to New School, he's a definite scholar of the Game.
Peeps need to seriously start paying attention to this Kat and cop his latest LP "Memories Don't Die" cause that body of work displayed on that album speaks volume. To get familiar with some of his previous hits peep my DJ Blaze/Tory Lanez takeover set on my mixtapes section and hear how this Kat captivates his fans, worldwide.
Blaze
On The Watch "It's All About Tory Lanez"