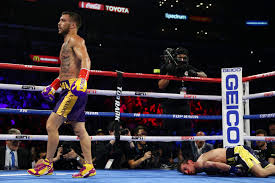 WBA Lightweight Mandatory Challenge
Last night's Friday Night Boxing at the Staples Center in Los Angeles, California, the 10,101 fans in attendance had themselves another great performance courtesy of WBA/WBO Lightweight Champion Vasiliy Lomachenko (13-1, 10 Kos).
It was another quick night at the office for Lomachenko when he successfully defended his WBA mandatory challenger Anthony Crolla (34-7-3, 13 Kos).
Last night, Loma looked sharp and focussed and showed some serious pop in his punch combinations when he sat down Anthony for the count in the fourth round. Easy work!
It was clear from the jump that Crolla had no idea what he was in for and by the second round when Loma had figured Crolla out it was a wrap from that point on. Loma started to let his gloves loose with shots from every angle with power and precision that left Crolla helpless and shell-shock as the thrashing kept on creeping.
The "End Game" knock out in the fourth round spared Crolla from further unnecessary punishment. Crolla was simply outclassed and outmatched by a superior gifted opponent in Vasiliy Lomachenko. Real Talk!
This version of Loma is a problem for all competitors and Champions in the Lightweight Division. But that being said I can't wait to see who signs up next for the challenge and the opportunity. Loma has made it clear fight after fight, he wants all the belts!!
Until your next foe is announced, congratulations on your victory Champ.
Blaze
On The Watch "Its All About Vasiliy Lomachenko vs Anthony Crolla"