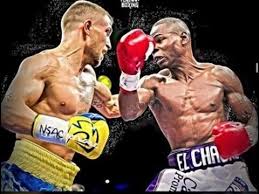 "History In The Making"
I can't front on Boxing this year 2017, the Boxing Gods have given us entertaining bouts after bouts every month to date. REAL TALK!
One of the highly anticipated clashes of the year has finally been set. WBO Super Featherweight Titleholder Vasyl Lomachenko (9-1-0 7 KOs) and WBA Super Bantamweight Titleholder Guillermo Rigondeaux (17-0-0 11KOs) are set to collide in that squared circle on Saturday December 9, 2017 at Madison Square Garden in New York City.
Rigondeaux will be moving up two weight Divisions to 130-pounds to challenge Lomachenko for his WBO Super Featherweight Belt. This is another history fight in the making considering that this will be the first time a pair of two-time Olympic Gold-Medal winners will be sharing that squared circle together.
Their amateur careers speak volumes. Lomachenko was (396-1) as an amateur and Rigondeaux was (463-12) as an amateur. To top it all off, they also won two World Amateur Championship apiece-Nuff said! To me they are arguably two of the greatest utmost skilled amateur boxers in history to ever lace up some gloves.
Regardless of the weight class, these two combatants are ready to match it up skill for skill and deliver us an unforgettable high-octane performance.
So far, Lomachenko is seen by many experts in the Boxing community as the favourite in this match up but personally, I don't think peeps should be sleeping and overlooking Rigondeaux on what he brings to the table. The way Rigodeaux moves and thinks in that squared circle is like a cerebral assassin. Will Lomachenko's "Matrix" style be enough to penetrate Rigondeaux's impenetrable style of defense? Your thoughts on this one?
Blaze
On The Watch "It's All About Vasyl Lomachenko vs Guillermo Rigondeaux"