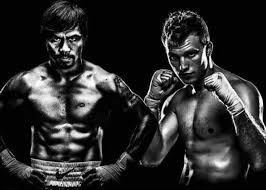 WBO Welterweight Champion
Once again, I witness with my own eyes another highly scandalous unanimous decision for the challenger. REAL TALK! On Saturday night July 1, 2017, in a fight televised on ESPN Boxing at the Suncorp Stadium in Brisbane, Australia, the unimaginable but not impossible occurred. Jeff Horn (17-0-1, 11 Kos) the homegrown fighter took it to Manny Pacquiao (59-7-2, 38 Kos) and stole the show "literally speaking " from right under his feet.
It was a much tougher fight then most including me anticipated it to be. Horn came out the gate with the Guns blazing, roughing up Pacquiao and at times trying to bully him with his weight advantage. Pacquiao clearly got caught off guard at first but as the fight wore on the savvy veteran clearly felt he did enough to secure the win. The ninth round was noticeably evident of that when Pacquiao nearly stopped Horn in that round.
The referee instructed Horn and his corner that if he didn't step his game up he will stop the fight. At that point, it was clear Horn was taking too much abuse from Pacquiao. His work rate and accuracy over Horn's roughhouse tactics were quite apparent. Now with that being said I'm not sure if the three Judges scoring the fight that night were watching the same two fighters. The Judges scores after the full 12 rounds were 117-111, 115-113 and 115-113 for the New WBO Welterweight Champion Jeff Horn. WOW!!
Horn stepped up to the plate and gave his fans a good show but truth be told Pacquiao may not have been at his best that night but he definitely did not lose that fight. REAL TALK! Unanimous decision?? Them Judges were compromised nuff said. These are the type of dramatic scoring that give Boxing a bad reputation. REAL TALK! This trend needs to stop. Your thoughts on this one?
Blaze
On The Watch "Its All About Manny Pacquiao vs Jeff Horn"