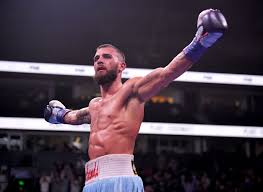 IBF Super Middleweight Challenge
Last night's homecoming bout at the Bridgestone Arena in Nashville, Tennessee between Caleb "Sweethands" Plant (20-0, 12 Kos) and Vincent Feigenbutz (31-3, 28 Kos) was a beautiful display of boxing skills by the homegrown fighter.
Caleb handed his mandatory challenger Vincent a one-on-one schooling session at its highest level. No disrespect to Vincent who was a tough and heavy fisted opponent who was simply short of being ready for an A+ fighter of Caleb's caliber.
As big and strong as Vincent was inside that squared circle, it was clear from the jump that he did not possess the right attributes to hang with the Champ. Caleb systematically dismantled and abused Vincent from top to bottom with some well-placed combination punches that had Vincent confused and beaten at every corner of every round.
By the 10th round, it was clearly a no-win situation for Vincent who was a walking heavy bag for Caleb. The referee had seen enough and pulled the plug at 2:23 of the remaining round.
With this win Caleb successfully retained his IBF Super Middleweight Title and is now welcoming all other Super Middleweight Champions to the round table. Caleb is looking for that smoke and that unification bout.
That being said, Caleb is shaping up to be a real threat of a Champion in the Super Middleweight Division. He's got that "it" factor with that determination and hunger to run the 168-pound Division as the No. 1 guy.
Caleb is looking like a complete fighter right now. It's gonna take a special fighter to derail this confident Champion from his seat at the round table.
WBC Super Middleweight Champion David Benavidez is looking forward to oblige Caleb's request of a future bout and I can't wait to see what comes of it.
Until then, congratulations on your convincing win Caleb.
Blaze