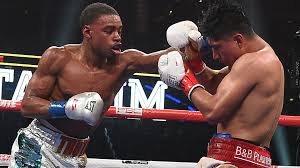 IBF Welterweight Challenge
Last night at the AT&T Stadium in Arlington, Texas, Errol Spence Jr. (25-0, 21 Kos) retained his IBF Welterweight Title by masterfully breaking down and shutting out Mikey Garcia (39-1, 30 Kos) by a unanimous decision. All three Judges scored it 120-107, 120-108 and 120-108.
I'm in agreeance with the Judges' score cards but definitely tip my "B" hat to Mikey standing up throughout the full 12 rounds. Mikey is a great fighter and deserving to be on the pound-for-pound list hands down but on this night, Mikey was reaching wayyyy out of pocket in attempting to unseat EJ inside that squared circle.
Mikey had absolutely no answer to Errol's steady jab and powerful body shots all night. It was clear that EJ was just too big, too strong and too long for Mikey to lay any type of offence with all these disadvantages going against him. In the past Mikey had always figured out his opponents but this time he was met with a superior boxer in Errol Spence Jr. Real Talk!
Surprisingly, EJ didn't try to go for the "endgame" like he usually does and instead chose to show off his boxing skills while administering heavy punishment to his opponent. It was a glorified sparing bout at its finest with EJ never taking his foot off the gas all night. Errol literally toyed with Mikey round by round making it real painful to watch at times.
This type of schooling that Mikey took last night reinforces why weight divisions are to be respected. Mikey may have lost this fight but he is still a Champion in the Lightweight Division and going back down might be the most logical thing to do.
With this win and dominant performance by EJ now out of the way, he is now back on the prowl looking for that smoke with any of the top welterweights and his first target on sight is none other than Manny Paquiao.
The call out was officially made last night inside that squared circle in front of 47,525 fans, now let's see if this bout comes into fruition.
Until then, congratulations on your win Errol, job well done.
Blaze