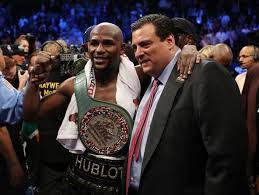 The Champ is here
Last night Mayweather (50-0, 27Kos) took it back in time. He left the cell phone at home and went straight to the phone booth, the inside game that is. REAL TALK!
The retired older and much smaller fighter outsmarted the bigger stronger and younger challenger in Conor McGregor (0-1). It was a boxing lesson at its finest for the public and fans all around the world watching. The so-called old man "Money" Mayweather took it straight to McGregor and pressured the Young Lion throughout the fight. Mayweather's game plan was perfectly executed.
Conor showed a lot of heart and a strong will but at the end Floyd was just too witty and crafty for the Young Blood to figure out. Your Boy McGregor just simply ran out of "juice" and couldn't sustain the ongoing aggressiveness that Mayweather was bringing on to him. Floyd stayed cool, calm and collective while walking the awkward McGregor down round by round. By the tenth round it was clear that Conor was about to be out on his feet so the ref saved him from more punishment and stopped the fight.
To me win or lose McGregor is still a tough competitor hands down. The MMA World still has a Champion in Conor McGregor. He walked it like he talked it but just happen to tangle with "The Best To Ever Do It" in the Boxing World in Floyd "Money" Mayweather that is.
Congratulation Champ! You masterfully secured your 50th victory with a hell of a memorable performance. Thank you for staying true to your word. The Champ is here!
Blaze