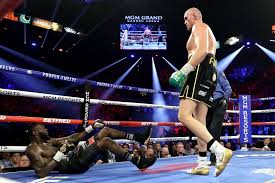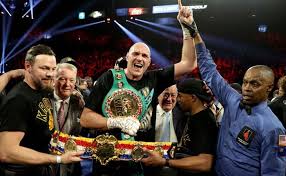 WBC Heavyweight Title Challenge II
Tyson Fury (30-0-1, 21 Kos) delivered on his promise and bullied the WBC Heavyweight Champion Deontay Wilder (42-1-1, 41 Kos) on his own soil. Last night's Main Event at the MGM Grand in Las Vegas, Nevada was nothing short of an exciting showdown between two of the biggest Heavyweight Boxers in the game today.
The "Gypsy King" came into this bout with a new trainer and a flawless "game plan" that Tyson executed to a "T". I gotta tip my "B" hat to Fury for delivering such a one-sided beat down on one of the most heavy-fisted Boxers in the game today. Tyson's approach this time around took Wilder by surprise. Tyson stood his ground early and physically asserted himself to the point of doing the impossible and actually dropping Wilder in the third round for a quick standing 8 count from which Wilder never fully recovered. Wilder looked tired and was on shaky legs from that point on. Definitely unusual territory for the Champ.
Tyson was putting his hands all over Wilder and all over that squared circle with no real resistance from the Champ. The power puncher last night was Furry who literally manhandled and dominated Wilder to a second knock down in the 5th round. The pressure was looking like it was too much for Wilder who looked gassed as the rounds wore on and truth be told, to everybody's surprise, Wilder's corner threw in the towel to stop the unanswered onslaught in the 7th round. Unbelievable! Deontay got hella heart and clearly wanted to go out on his shield but pulling him out in that 7th round was the right move to do to save him from any further injuries.
I never expected to see the so-called "pillow-fisted" Fury stopping the Champ in such a convincing fashion. With this win, the "Gypsy King" dethroned the "Bronze Bomber" and picked up the WBC Heavyweight Championship Title along with the Ring Magazine Belt and now becomes a two-time Heavyweight Champion of the World.
Congratulations on your latest accomplishment Tyson. This rematch will unquestionably go down in Boxing History as one of the greatest battles. You walked in on a throne and left that squared circle the "Gypsy King" of the Ring.
Blaze