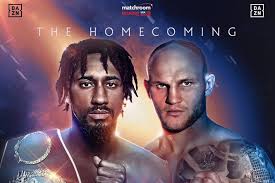 WBO Middleweight challenge
WBO Middleweight Champion Demetrius Andrade (27-0, 17 Kos) will be looking to defend his title for the second time in his first ever hometown show at the Dunkin Donuts Center in Rhode Island, Providence against Maciej Sulecki (28-1, 14 Kos) on Saturday June 29, 2019.
This bout should be an exciting one considering Sulecki is a gamer type fighter that shouldn't be taken lightly. Maciej is a strong and skillful fighter who doesn't back down when the going gets tough inside that squared circle. This being his first crack at a world title, I'm expecting Sulecki to come prepared with the gloves blazing for a war.
That being said, Andrade is the truth inside that squared circle. Tough, gifted, well-schooled with a very high boxing IQ. He is an undefeated two-time two-weight division World Champion who is presently holding the WBO Middleweight Title. Real Talk! Andrade has high aspirations of one day unifying the Middleweight Division. Before any of that can happen, he's got to dispatch of his mandatory challenger Maciej Sulecki in a convincing fashion in order to possibly entice Canelo Alvarez the Unified "Kingpin" Champion of the Middleweight Division to a fight for the last remaining piece of the puzzle, his WBO Middleweight Belt.
There are levels to this boxing sh*t and on Saturday July 29, 2019 at the Dunkin Donuts Center in Rhode Island, Providence, with home court advantage, I'm expecting Andrade to put on a skillful display inside that squared circle and walk away satisfying his fans and family with the win and the WBO Belt still in his possession.
Tune in live on DAZN and Sky Sports for a thrilling night of Boxing.
Blaze