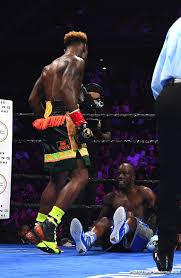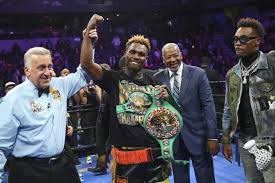 WBC Super Welterweight Challenge Take II
Last night's rematch at the Toyota Arena in Ontario, California between Tony Harrison (28-3, 21 Kos) and Jermell Charlo (33-1, 17 Kos) definitely lived up to the hype. Real Talk!
Charlo walked it like he talked it and made sure to keep the Judges out of this one. Charlo asserted himself early and was able to drop Tony in the second round for a quick 8 count. That prompted Harrison to change his "game plan" to become a more aggressive fighter due to the early knockdown.
As the rounds wore on Harrison boxed well enough to even out the rounds in my eyes, but it was clear that Charlo was looking to put a hurting on Harrison. Jermell's controlled aggression along with his barrage of power punches were definitely keeping the fans interested.
However, Harrison's "phone booth" tactics took Charlo by surprise and forced Jermell to dig deeper and rethink his approach as Tony was starting to come back with his own desperate aggression.
That being said, Jermell's power was clearly the game changer this time around. By the 11th round Jermell managed to drop Tony with an empathic right hand to the dome for an 8 count then, once Tony got up, Jermell continued the attack with some heavy shots and knocked Tony down again for another 8 count. Tony got up from the second knockdown only to get swarmed by Jermell some more but by that time the referee had seen enough and pulled the plug.
As entertaining as this bout was it was a lot closer than the Judges had it. Harrison lost focus and paid the price at the end.
With this win, Jermell avenged his loss to Harrison from a year ago and now has once again reclaimed the WBC Super Welterweight Title.
Congratulations Jermell, Job well done!
Blaze