Thursday December 11, 2014
ON THE WATCH
The NBA-Who's On Top?
With only a quarter of the regular season down, one can't front on the surprising rise of our own Canadian Team, The Toronto Raptors. (including me) This team from Up North is still flying high off last years NBA Season and leading the EAST right out the gate with a record of 16-6. Good enough for the No. 1 seed in the EAST for now. The Eastern Conference has a whole is already doing better than last year around this time of the year. As I'm writing this, five Teams are already sitting above the 500 PCT mark. Now that's definitely an improvement worth feeling positive about. REAL TALK! With that being said the WESTSIDE still has a convincing hold over which side has the strongest coast.  Leading the Western Conference this time around is the hot shooting Golden State Warriors with a league leading record of 19-2. Holding on to that No. 1 seed will not be a cakewalk considering the Western Conference already has 10 Teams above 500 PCT. The Challenge presents itself to both Teams representing their respective coast to see if The Toronto Raptors or The Golden State Warriors is truly contender worthy. Only time will tell cause we still have lots of Ball to be played. Keep tuning In!!
Wednesday November 5, 2014
ON THE WATCH
Ty Dolla $ign Is another up and coming "Quadruple Threat", Grammy-nominated Singer, Rapper, and Producer from the West Coast that has been tearing up the airwaves with his own unique and distinctive raspy voice in demand REAL HEAVY on them Hip Hop/R&B tracks. REAL TALK! Dude got that "JUICE" right now and along with his two partners DJ Mustard and YG, the WESTSIDE hasn't stop bringing in the "HEAT" steady climbing on them charts. REAL TALK! Ty is not your typical crooner for hire; this Kats "PEN" Game is just as serious. Ty has already co-written or produced work with some movers and shakers in the  Game of the likes of Chris Brown, Rihanna, Snoop Dogg, Wiz Khalifa, B.o.B and Jennifer Lopez just to name a few. With a slew of mixtapes under his belt to date and his latest EP "Sign Language" out right now, one can truly appreciate his writing ability and special ear for music displayed throw-out his body of work. Ty is the "TRUTH" and if your still skeptic about him and his music then you should check out my DJ Blaze/Ty Dolla $ign set on my mixtapes section and become a believer of true talent at work.
Blaze
Saturday October 25, 2014
ON THE WATCH
NBA Season 2014/2015
The San Antonio Spurs have officially re-entered The NBA Finals Sweepstakes once again by capturing their 5 NBA Championship in a very convincing manner for year 2014. The newly crowned Defending Champs will have their work cut out for them in this upcoming 2014/2015 NBA Season.  Attempting to duplicate last years near-perfect NBA Season will most likely be the motivation needed to maintain focus throughout this year NBA Season. The task at hand will be a struggle and a challenge within itself considering just how strong the West keeps on elevating year after year.  With all the trades and injuries occurring throughout the summer and the preseason, the balance of POWER still resides on the WESTSIDE!! REAL TALK! Last season 7 teams in the West won 50 or more games then the East who only managed to have 2 teams with 50 or more wins. NUFF SAID! With the relocation of LeBron James BACK to Cleveland, the second comeback of a healthy Derrick Rose, a motivated Carmelo Anthony and the surprising rise of The Washington Wizards, The Charlotte Hornets and our own Canadian Team in The Toronto Raptors, I anticipate this years EASTSIDE's win ratio PCT to improve dramatically. The injury bug has already hit quite a few teams from the jump. The affected teams will feel the burn of it but injuries aside this NBA Season 2014/2015 will definitely be an interesting season to keep ours eyes and attention on and see who will benefit from all the Hollywood Shuffle that went on during the summer brake.  Tune in this Tuesday, October 28, 2014 for the beginning of another electrifying NBA Season!!
Friday June 27, 2014
ON THE WATCH
Checkout BLOCKZ MAGAZINE write up on " THE RECORD BREAKER" CANADA'S DJ BLAZE!! DJ BLAZE "MOST KNOWN UNKNOWN!! ALWAYS LETTING THEM 12s DO THE TALKING!!
Miss Angie
Monday June 16, 2014
ON THE WATCH
J-Lo
Bronx's New York Latina Bomb shells very own Jennifer Lopez aka Jenny From The Block; aka J-Lo is an Iconic Artist who started her journey has a Fly Girl Dancer on In Living Color in 1991 to becoming the highest paid Latin Entertainer till this day. REAL TALK! Jenny has work long and hard to attain everything ever given to her. She's a well-seasoned actor, singer, producer, fashion designer and skillful dancer who's always ready to tear the floor down on any given night. Jenny's Global Iconic stature has help build her ever-growing Business Empire outside of being a serious hit in films and music. Jenny is one woman in my eyes that's never fallen off. She stays looking sexy in every way possible with a self work ethic that any aspiring artist/actor can truly appreciate. With nine well-received LP's already under her belt to date, it's only right that Jenny From The Block returns back to the "HOOD" to share what she's learn through out her astonishing career. Her latest offering Album is called "A.K.A." And judging by the sounds and features aligned on this Album J-Lo is definitely rejuvenated and back on the "BLOCK" reppin her swag heavy on them tracks. REAL TALK! Peeps shouldn't sleep on this LP cause your Girl J-Lo has gotten some sure shots to keep her fans moving. To get familiar with her work peep my DJ Blaze/J-Lo set on my mixtapes section and grasps the stroll down Bronx New York.
Monday June 16, 2014
ON THE WATCH
2014 NBA Finals Champs!
The San Antonio Spurs have officially slayed The 3 Headed Monsters (Wade, James, Bosh) and The Miami Heat with a 4-1 trashing of the NBA Finals on their Home Court. (Priceless) Redemption was on The Spurs mind from the Time the season started to the last curtain call of the last seconds of NBA Finals Sunday night June 15, 2014. The Heat may have been The Defending Champs but on that night The Spurs were the aggressors determine to dethrone them and that they did. I tip my "B" hat to The Spurs. Their team play, chemistry and poise in which The Spurs displayed in The NBA Finals Series will forever go down has one of the best "Team" Basketball games ever played. This Spurs team is the most unselfish team in the league, they deserve this years Championship hands down. If this happens to be their last Championship run then they did the 2013/2014 NBA season justice by winning their 5th NBA title in style, REAL TALK! Congratulation to The San Antonio Spurs 2014 NBA Champion!!
Blaze
Monday June 9, 2014
ON THE WATCH
"CANADA'S DJ BLAZE WINS THE AWARD FOR DJ OF THE YEAR AT THE BCA 2014"
Bringing home the win last night for DJ OF THE YEAR!! Thanks to everyone who voted and has been supporting!!
Thanks to the BCA for a  GREAT EVENT a putting in all the  hard work! CANADA'S DJ BLAZE  is proud to be a  Nominees & WINNER FOR DJ OF THE YEAR!!
DJ BLAZE NO BS GIMMICK!! NO SCREAMING ON THE MIXTAPES!! DOING WHAT A REAL DJ DOES!! LETTING THEM 12s DO THE TALKING!!
Proud of  DJ BLAZE he put's in heavy work!!
Miss Angie
Sunday June 1, 2014
ON THE WATCH
NBA FINALS 2014
The long awaited rematch between The Miami Heat/The San Antonio Spurs is now set. Both teams have a high expectation for them to execute a flawless series but there can only be 1 True winner for that O'Bryan Trophy. On one side we have The Spurs who were stripped of their Fifth Title by the hand of The 3 Headed Monsters and company at last years Finals. Retribution has been on their mind ever since REAL HEAVY! This Spurs team may be facing Father Time but judging by their play throughout the season (62-20 No. 1 seed) and their convincing run throughout their playoff run to date, one can clearly see that they have probably figure out how to manipulate Father Time to their advantage by surrounding the team with some very good savvy players who play up to their potential to a "T" This well balanced experience team just might have the right tools to slay down The 3 Headed Monsters of The Miami Heat. With that being said The Defending Back-to-Back Champs The Miami Heat are also looking to cement their name into the Record Books by becoming members of "The Three Peat Club" Love them or Hate them The Heat have established their Championship Level of play and they do rock the "Championship Belt" very well. REAL TALK! The Heat has improved in every Championship run so for. With only 3 losses under their Belt in this years Playoff run to date, it has been clear that their mental toughness and clutch play has a team has improved dramatically game by game. Slaying The Miami Heat and The 3 Headed Monsters (Wade, James and Bosh) will not be easy but definitely worth the "HYPE" and "ATTENTION" given to see who will be adding their names to this year's 2014 NBA Records Books, has "King of The Court" of The 2014 NBA Finals Championship! Tune in this Thursday night June 5, 2014 for Game 1 of the NBA Finals!
Blaze
Sunday  May 25, 2014
ON THE WATCH
CANADA'S  DJ BLAZE NOMINATED FOR  DJ OF THE YEAR  AT THE BLACK CANADIAN AWARDS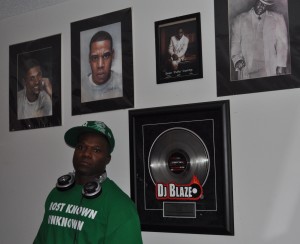 His hard work and dedication to his craft and music artistry are being recognized by his peers,  nominated for the "Black Canadian Awards" for DJ OF THE YEAR"
Please VOTE & SUPPORT
Saturday May 17, 2014
"ON THE WATCH"
NBA CONFERENCE FINALS
Once again The NBA's version of the Final 4 is set to start. The 2 teams representing the West Side in the Western Conference Finals this year is the overall No. 1 seeded San Antonio Spurs and the 2nd seeded Oklahoma City Thunders. The Old Schoolers vs The New School Era.  The Spurs have made it clear from the jump of the season till today, they are not done yet. Their drive, skill, experience, discipline, determination along with their Coach Gregg Popovich to lead them is all the motivation needed for them to get to the NBA Finals. With that being said OKC aka the Young Gunna's are also on a mission of their own. The newly crowned NBA's MVP now resides in OKC. Mr. Reliable Kevin Durant is that dude who is prime and ready to get over that hump. These core of players just might have the whole package; a young, athletic, skillful group of guys ready and loaded to stop the veterans Spurs from moving on to the Finals. Old School/New School who runs the show?? Tune in Monday night May 19, 2014 and see who will come out the gates huffing and puffing their way to the NBA Finals!
The Eastern Conference Finalist is a déjà vu of last year's finalist but the difference this year poses is that the No. 1 seed are the Indiana Pacers and the No. 2 seed the defending NBA Champs Miami Heat. The Pacers did what was needed of them through out the season to gain that No. 1 seed now its all about making sure that it was worth it by dethroning the Champs and advancing to the Finals. REAL TALK! The Heat wants a Tree Peat under their belt and judging by there playoff run so far there 8-1 record is looking like they just might be on track to clean house. Now the question remains will they still have the juice to get pass a hungry team looking to avenge last years mishap?? Tune In this Sunday afternoon May 18, 2014 and see who will be "KING OF EAST" when all is said and done!
Blaze
Monday May 5, 2014
ON THE WATCH
NBA PLAYOFFS CONFERENCE SEMIFINALS 2014
As expected this year's 1st round showdown was must see TV with 4 teams East/West included, needing a game 7 to decide their faith on who moved on to the Conference Semifinals. With that being said the only 2 teams in the Playoff run coming in well rested for the second round are The Miami Heat who swept The Bobcats 4-0 and The Washington Wizards who outplayed The Chicago Bulls 4-1. Now the "HYPE" continues for the second round, The Indiana Pacers will be going into battle with The Washington Wizards while The Defending Champs The Miami Heat face off with the only team they could not beat during the regular season, The Brooklyn Nets. REAL TALK! The excitement alone surrounding this battle will undeniably be a series for the ages to come. (Reminiscing of the Heat/Celtics saga) the animosity these two competitive teams have for one another will be on display for all to see come Tuesday night May 6, 2014.
No rest for the West as each team took a longer journey into getting to the Conference Semis. The top seeded Spurs will be looking to slow down the hungry hot shooting Trail Blazers while L.A.'s newest representatives The Clippers will be battling it out with their Nemesis The Oklahoma Thunder. This series will certainly be an exciting one to keep watch on considering how both teams are now finding a groove in team play well displayed by the way they both took convincing control of their opponents in the first round of an exhausting game 7. Tune in Monday night May 5, 2014 and see who will be taking first crack at establishing their dominance at both end of the floor.
Friday April 18, 2014
ON THE WATCH
NBA PLAYOFFS 2014
This NBA season was another roller coaster types season with again some uncontrollable, unaccounted mishaps that we the fans would have never imagined happening through out the year. REAL TALK! With that being said this years' " King Of The Court" for the season is non other then The San Antonio Spurs who finished the season with the Best record of 62-20. This team stayed on path through out the whole season with 1 goal in mind and that's to undo the wrong of last years NBA Finals and recapture what they feel belonged to them, The O'Bryan Trophy. Their journey will not be an easy one considering how the West is loaded with some serious contenders of their own in the likes of Oklahoma, The Clippers and The Portland Trailblazers without counting out the rest of the teams in the Western Conference gunning for the same goal. The Eastern Conference's "Top Dog" goes to The Indiana Pacers with their record of 56-26. The Pacer's came out the gates in an aggressive fashion but finished the last month of the season with a lack of focus, questionable for a real playoff run? The same goes for The Defending Champs Miami Heat. Their last month finished was just has shaky and doubtful. Both team showed signs of weakness that will not go unnoticed by neither of the remaining Eastern teams aiming to upset them in their own quest. Some new faces in the Playoffs might just surprise a few team this year but one thing for sure is that this Saturday April 19, 2014 Playoffs First Round will definitely be one for the "Books". REAL TALK! Tune in!
Blaze
Tuesday April 1, 2014
ON THE WATCH
TeeFLii
Los Angeles has been breathing some serious talented artist into the Game as of late. Next to "Blow" out of South Central is R&B Singer, Rapper and Producer TeeFlii. This Kat's style is different from the norm. His approach in which he crafts his songs and laces up his beats is hypnotic. His smooth but yet jagged way of displaying out his lyrics seem to mesmerize the ladies into a frenzy of pure "panty dropping action" whenever he drops a hit record. REAL TALK! This Kat has the gift of jabs in his "PEN" Game and a profound ear for producing music. Clearly well displayed in his previously released mixtapes: AnnieRUO'TAY, AnnieRUO'TAY 2, AnnieRUO'TAY 3 (Who The F*ck Is Annie?) and his collaboration with DJ Mustard Fireworks. Flii's body of work so far has garnered him some serious attention in the Hip Hop/R&B world. He's in high demand for features right now and the Clubs, the Radio stations and the Streets are rocking with him real "HEAVY". With that being said its only fitting that CEO of Epic Records L.A. Reid scooped him up and offered Flii his deal before it became too late cause this Kat's future is looking brighter and brighter by the day. REAL TALK! Be on the lookout for TeeFlii's official LP "Starr" to be release sometime this year 2014. Until then peep my DJ Blaze/TeeFlii set on my mixtapes section and hear how one entertains the ladies.
Blaze
Sunday March 29, 2014
ON THE WATCH
Forbes Hip Hop's Top 5 Wealthiest Artists
This year's Top Cash Cream Money Earner in the "I Get Money Club" to date is once again Mr. "No Sleep" himself Puff Daddy. Mr. Combs has kept a strong hold on the top spot for 4 years straight right now and judging by his latest venture "Revolt TV" Diddy has no plans of falling asleep on the job any time soon. His estimated Net Worth clock in at $650 Million. With that being said Puff becomes the first Rapper in history to crack the $600 Million Net Worth mark. Congratulation for that special achievement Big Homey! Breathing down Puff's neck for the 2nd spot is my Boy Jay with his estimated Net Worth $550 Million. With his latest venture being Roc Nation Sports Agency, Jay is showing us once again "He will not lose". Aiming for that No. 1 spot is still a Hustlers Ambition. Holding down the No. 3 spot is the Dr. himself Dre with his estimated Net Worth $450 Million. Aside from his production, Beats By Dre is the goldmine behind all his good fortune and REAL TALK! Business has been very profitable for the good Dr. Master P is back on the scene and claiming the No. 4 spot after rejuvenating back his rap career. P is one of the originators who spent many years on the "I Get Money Club" with many profitable business ventures under his belt. His estimated Net Worth $350 Million. Closing out the No. 5 spot is your Boy 50 Cent coming in with a cool $270 Million Net Worth. His hunger and Animal Ambition to succeed is one of the key factors why Fif stays grinding on the "I Get Money Club" and steady climbing year after year. I Salute each and every member for the hard work they put it cause they all "Started From The Bottom" to now being Leaders of the Hip Hop Money Mountain in the Game.
Blaze
Saturday March 8, 2014
ON THE WATCH
Ashanti
Grammy Award Winner Ashanti is back on the scene and ready to wreck havoc in the R&B world once again. With the release of her fifth studio Album "Braveheart" now on "deck" one can clearly see and appreciate the growth and maturity displayed between her previous offering till now. Ashanti got her swagger back looking sexy and confident. Her track selection on this "LP" is on point; Homegirl definitely did her homework to capture the present vibe going on and to also let the competition know she ain't no newbie to this Game but a seasoned Artist with an even clearer future for days to come. REAL TALK! The production on this Album is tight and crisps and the features just right. Homegirl got some sure shot "Bangers" that will unquestionably keep the Clubs moving and the Radio spins Blazin!! REAL TALK! For those who are unfamiliar with Ashanti peep my DJ Blaze/Ashanti set on my mixtapes sections and hear the evolution that Ashanti "The Princess" brings back to the Game. REAL TALK!
Blaze
Sunday February 16, 2014
ON THE WATCH
Eric Bellinger is that unsung music assassin that people need to pay attention too. REAL TALK! Eric B has that fresh new Hip Hop/R&B sound that's much needed in the music Game today. His "Pen" Game hasn't gone unnoticed either judging by the hit records he's already crafted for the likes of some Heavy Hitters in the Game; Usher, Justin Bieber, Chris Brown (which he won a Grammy with), Jennifer Hudson and Fantasia, just to name a few. With three well-received mixtapes Born II Sing vol. 1,2 and 3 under his belt to date, Eric B showed his peers and his fans just how versatile of an artist he truly is by owning his skills on the production side aside from his mean "PEN" Game. With that being said it's only fitting that Eric B blesses his fans with his recently released LP "The Rebirth" out right now with that fresh new Hip Hop/R&B flavor that will keep the Clubs goers and Radio heads movin on them tight tracks. REAL TALK! The collaboration alone will get you intrigue. DON'T BE A SLEEPER. Cop the LP. It's definitely a well-crafted Album worthy of some Hardware in the near future. REAL TALK! If your still not sold on it peep my DJ Blaze/Eric Bellinger set on my mixtape section and hear what you've been missing!
Blaze
Monday February 3, 2014
ON THE WATCH
The NBA-Who's On Top?
We are officially passed the midpoint mark for the season with over 42 games played and still representing the EAST with their No. 1 Defensive team in the league, we have the Indiana Pacers leading in the far front with a team first mentality that's been working wonders for them so far. The Pacers are clearly focus and determine to hold on to that No. 1 seed come playoff time. Their game is tight and their team well balanced with a discipline worthy of an NBA's Finals showing. Hopping to stunt their drive is The Defending Champs The Miami Heat. The "CROWN" still belongs to them even if they do look wounded at times; they still have the time and the experience to turn things around come playoff time. As for the remaining Eastern teams still gunning for a spot in the playoffs, 3 to 8 have yet to be concrete. Expect a dogfight for those spots to be filled.
Now for the Wild Wild West, it's a whole different story. The West is deep and loaded and the competition is fierce. Sitting atop this time around are the Oklahoma City Thunder with them being the Top Defensive Team to beat, however with the WEST being so competitive holding on to the No. 1 spot is a challenged within itself. The Spurs as usual have worked their way back to the top as the second seed but with many injuries to key players, I'm just not sure if they will hold on to that spot for very long. The Portland Trail Blazers have played like true contenders throughout the first half of the season so expect them to keep hovering around the 1 to 3 spot for the remaining of the season. Now for the remaining playoff spots between 4 and 8, expect the unexpected cause any one of these teams gunning it out can move up the food chain in no time. Keep your eyes and ears tuned in cause the spotlight is on high for the remaining part of the NBA season. REAL TALK!
Blaze
Sunday January 26, 2014
ON THE WATCH
The 63rd 2014 NBA All-Star Game which is set to air from New Orleans Arena on Sunday February 16, 2014, have officially released the Sprint NBA Balloting votes for the starting line up for the East/West All-Star Game.
Representing The Eastern Conference Starters This year are
-Carmelo Anthony (New York)
-Paul George (Indiana)
-Kyrie Irving (Cleveland)
-LeBron James (Miami)
-Dwayne Wade (Miami)
Representing The Western Conference Starters This Year are
-Kobe Bryant (L.A. Lakers)
-Stephen Curry (Golden State)
-Kevin Durant (Oklahoma City)
-Blake Griffin (L.A. Clippers)
-Kevin Love (Minnesota)
Judging by the new faces entering this year All-Star Game, it's clear to me that the fan votes speak volume. Some may agree to disagree with the line-ups but one thing is for sure this year All-Star Game is sure to be an exciting one, so TUNE IN!
Tuesday January 7, 2014
ON THE WATCH
YG
It looks like the city of Compton may have birthed another star in the making of the likes of YG, a young Def Jam signee who's ready to stamp his name on the West Coast as the next to "Blow" REAL TALK! YG is that Youngin on them block who've been blazin up the streets, killing them clubs while still grinding hard against the grain of the music industry. With the assistance of Ty Dolla $ign and the emergence of his DJ, DJ Mustard on the production tip, YG has finally touched base on that Mainstream Hip Hop and R&B vibe. That newly mainstream love is opening up some doors for the Youngin. His name is Buzzing and the streets are calling. YG is paving his own lane and with the help and the guidance of Young Jeezy by his side, Compton's very own is getting that attention and the respect from his peers while still being on the come up. REAL TALK! Be on the lookout for YG's official Def Jam LP "My Crazy Life" which is set to drop on any given day this year. Until then peep my DJ Blaze/YG 400 set on my mixtapes section and feel what LA has been raving about.
Saturday December 21, 2013
ON THE WATCH
Mobb Deep
When it comes to naming successful rap groups from the East Coast, one cant go far down that list without naming the Legendary Duo from Queensbridge New York, Prodigy and Havoc, known to the Game has Mobb Deep. REAL TALK! They are hands down one of the most booming groups from the East Coast still doing it "BIG" till this day. Mobb Deep always made sure that the East Coast stayed on the map even when the East Coast/West Coast beef was going on the Mobb never back down. They delivered for their city with their heads up high when their backs were against the walls. REAL TALK! With over 20 years in the Game Mobb Deep stamped their name in the books with some heavy tracks that changed the Game from the early "90's" till this day. Now with seven Group Albums under their belt, Mobb Deep is looking to rock the Game once again by giving us that long awaiting 8th LP "The Infamous Mobb Deep" which is set to drop some time in spring 2014. In union with the release of their LP, be on the look out for a Mobb Deep tour date near you. Mobb Deep is set to hit the road for a 31-date tour across North America, taking off January 10, 2014 in San Diego with possible future dates to be added to venues outside the U.S. Till then peep my DJ Blaze/Mobb Deep set on my mixtape section and hear how I Blaze the Mobb up!
Sunday December 15, 2013
ON THE WATCH
Rico Love
Tuesday December 10, 2013
ON THE WATCH
The NBA-Who's on Top?
Monday December 9, 2013
ON THE WATCH
With Cuzzo Ton

Blazinone.com's Hot 10!
DJ BLAZE -For your Blazinone.com fans who don't know, where are you from?
I'm from Richmond, VA
DJ BLAZE -How did you get started in the music game?
I started in 2009 when I dropped my first mix-tape for peers but, I have been writing since I was ten years old.
DJ BLAZE -How did you get your name?
The name "Cuzzo" came from my closet friends and family and Ton is my biological name "Anton" but shorten.
DJ BLAZE -When did it finally become clear to you that this is what you wanted to do?
When I gave up my promising career in playing basketball in 2006 I started back writing never looked back since. When I realize that I had a lot to talk about from all of the struggle and stress in my life I knew rapping about it was what made me feel better.
DJ BLAZE -How would you describe your sound and style of music?
I would say I have my own style and sound but I have heard people say I sound like a southern lyricist such as T.I. and Lil Wayne.
DJ BLAZE -I'm feeling your latest track "Fly Kicks" with Fred The Godson, when can we expect the video to hit the net?
I'm planning to release the video at the top of the year.
DJ BLAZE -What should your fans be looking out for from you?
This February I will be dropping a new mix-tape titled "I'm Just Me Vol.2". I also will be dropping a new single from that project.
DJ BLAZE -What else outside of music do you have going on for yourself?
This February I will also launch an online clothing line called P.E.A.C.E.S.
DJ BLAZE – Is there an artist you want to work with that you have not yet had the opportunity to work with?
I have a couple such as T.I., The Game, J.Cole, Kanye West but I'm willing to work with anyone that's ready to create dope records.
DJ BLAZE – If you weren't in the music biz what would you be doing?
I would probably be a coach or some type of social worker because I like to help people who want to help themselves.
Blaze
Wednesday December 4, 2013
ON THE WATCH
On his 44th B-Day Jay Z decided to break down his entire discography and bless us with his personal list based from his own ears and mind, his sequence on Best-To-Worst LP's.
Peep The G.O.A.T.'s break down!
1. Reasonable Doubt (Classic)
2. The Blueprint (Classic)
3. The Black Album (Classic)
4. Vol. 2 (Classic)
5. American Gangster (4 1/2, cohesive)
6. Magna Carta (Fuckwit, Tom Ford, Oceans, Beach, On the Run, Grail)
7. Vol. 1 (Sunshine kills this album…fuck… Streets, Where I'm from, You Must Love Me…)
8. BP3 (Sorry critics, it's good. Empire (Gave Frank a run for his money))
9. Dynasty (Intro alone…)
10. Vol. 3 (Pimp C verse alone… oh, So Ghetto)
11. BP2 (Too many songs. Fucking Guru and Hip Hop, ha)
12. Kingdom Come (First game back, don't shoot me)
Friday November 29, 2013
ON THE WATCH
Now That's Gangsta!
Jeep Wrangler Full Metal Jacket
Texas-based Starwood Motors pays homage to Stanley Kubrick's classic 1979 film, Full Metal Jacket, for a special edition version of the latest Jeep Wrangler.
The blacked out ride sports a Pentastar 3.6-liter V6 engine that produces 285 horsepower and travels zero to 60 in 8.4 seconds. Other features include a fully-upgraded suspension and lift kit, LED light bars all around, and Kevlar panels on both its interior and exterior.
Monday November 25, 2013
ON THE WATCH
Jay Z's latest collaboration with Barneys New York is sure to keep them Christmas stuffer full, that is if your money is long enough
Peep some of the exclusive, limited edition products on display.
Blaze

Thursday November 21, 2013
ON THE WATCH
Forbes just recently wrapped up their top list of Money Hustling Musicians From June 1st, 2012 to June 1st 2013. The criteria Forbes was going by was: 1) Music sales 2) Tour profits 3) Endorsement 4) Business ventures. REAL TALK this list right here is not for the weak. If you're not about that grind then you're in the wrong business. This list is made up of New money and Old money but REAL TALK hard work and dedication is what keeps these peeps striving everyday. I tip my "B" hat to all of them for always keeping that grind on the move REAL TALK!
Peep Forbes Paid in Full List
1. Madonna – $125 million
2. Lady Gaga – $80 million
3. Bon Jovi – $79 million
4. Toby Keith – $65 million
5. Coldplay – $64 million
6. Bruce Springsteen
7. Justin Bieber – $58 million
8. Taylor Swift – $55 million
9. Elton John  – $54 million
10. Beyonce – $53 million
10. Kenny Chesney – $53 million
12. Diddy – $50 million
13. Paul McCartney – $47 million
14. Calvin Harris – $46 million
15. Jennifer Lopez – $45 million
16. Roger Waters – $44 million
17. Muse – $43 million
17. Rihanna – $43 million
19. Jay Z – $42 million
20. One Direction – $42 million
21. Dr. Dre – $40 million
21. Red Hot Chili Peppers – $40 million
23. The Rolling Stones – $39 million
22. Katy Perry – $39 million
24. Tim McGraw – $33 millio
25.Pink – $32 million
Blaze
November 14 , 2013
ON THE WATCH
BRANDBLACK is a new line from footwear veteran David Raysse, the former Director of Basketball at adidas and lead designer at Fila. His vision and style that he is planning to unleash is sure to garner the attention and compete with all the top brands out today. The "New Rule" is in full effect even the shoe world.
Blaze
Sunday October 27, 2013
ON THE WATCH
The Miami Heat and The 3 Headed Monsters have officially silenced all the Nay Sayers by successfully completing their first Back 2 Back Championship in a convincing manner. REAL TALK! With that being said the new NBA Season is set to start on Tuesday October 29, 2013 and from seeing all the Off-Season shuffles that various team have put forth, I'm thinking this year might just top the crazy year that just passed. REAL TALK! Key players that were hurt on various teams are now back in full effect; many trades were made for better or for worst but one thing is for sure many teams will be looking to make that leap this year and enter the race for that No. 1 Spot held by The Defending Champs Miami Heat. REAL TALK! Once again newer rivalries are being made from the EAST/WEST and old ones are still going strong. I'm looking forward to see who will claims the 5 Burrows between Brooklyn/New York and curious to see who will dominate the West with all those Key players who have relocated to change the landscape on the West Side! The East will definitely be exiting this year but the looming question still remains, the most IMPORTANT one. Which team will be strong enough and good enough to Dethrone The 3 Headed Monsters and The Miami Heat from their No 1 Spot! Let the 2013/2014 NBA Season begin!!
Saturday October 5, 2013
ON THE WATCH
Pusha T has kept the streets Buzzin for quite some time now and from hearing his first official solo LP "My Name Is My Name" the G.O.O.D. Music MC does not disappoint. Pusha kept it real and delivered us as promise that raw, uncut street sh*t that's been missing in the Game. REAL TALK! Pusha talks it like he walks it. No sugar coating over here. To some Pusha may sound like a new artist but don't be fooled cause your neighborhood Pusha been putting in work from time with his brother No Malice from the "Clipse" days. REAL TALK! Pusha is a seasoned Vet in the Game that's ready to solidify his position as one of the Best Lyricist Bar for Bar to ever do it this good on a consistent basis. REAL TALK! Pusha's confidence is on full display throughout the entire album. Pusha has proven to himself and his Nay Sayers that with or without his brother No Malice by his side; his peers should not take him lightly. REAL TALK! MNIMN is dropping this Tuesday October 8, 2013 but until then peep my DJ Blaze/Pusha T set on my mixtape section and hear how Pusha moves that weight Bar for Bar on them DOPE beats.
Blaze
Saturday  September 14, 2013
ON THE WATCH
Miss Jackson
Before the Beyonce's and the Rihanna's started killing the Game there was another Legendary Artist who helped pave the way for these new Artists to do what they do on such a high platform. Miss Janet Jackson also known, as Damita Jo is that Sexy American Recording Artist whom with the help of Jimmy Jam and Terry Lewis incorporated some of the best pop, blues, funk, new jack swing, dance, disco and rap genres to create that Timeless music that Janet is so well known for till this day. REAL TALK! Aside from being the youngest of the Jackson Family, Janet's self motivated work ethic, dedication to her craft and her ever growing sex appeal perpetuated her career to the next level. Her crossover appeal did not go unnoticed; every known outlet was rocking with Miss Jackson. Radio play, music videos and sold out venues world wide were asking for "ENCORE's". REAL TALK! With over 100 Million records sold to date Miss Jackson is categorically ranked as one of the Best Selling Artist in the Game Hands Down! Her catalogue of hit records is ridiculous. Her live shows are memorable, energetic and a must see type of event unmatched by today's artists. REAL TALK! If there was ever a Blue Print to follow, Miss Jackson career should be the motto that every young aspiring girl should consider researching when attempting to become the next Big Artist in the Game. To get familiarized with some of Miss Jackson's pass hits peep my DJ Blaze/Miss Jackson set on my mixtape section and feel the Legendary Vibe!!
Blaze
Friday September 6, 2013
"ON THE WATCH"
"ZAMANI THOMAS ATTORNEY- AUTHOR- ENTREPRENEUR- PHILANTHROPIST- EDUCATOR"
DJ BLAZE -Where are you from and what got you interested in the Entertainment Industry?
ZAMANI THOMAS –Born in Bean-town (Boston) but raised in The Dot. Basically all my friends growing up were already in the entertainment industry, singing, rapping, acting or sports. I just took the entertainment thing on the scholastic tip and went with it that way.
DJ BLAZE -What does an Entertainment Lawyer do?
ZAMANI THOMAS- We are basically the glue that holds the industry together in one way or another. We handle all the contracts, the people and the emotions. A lot of times we have to be the "bad guys" so that our clients are able to put forward a smiling front even in the face of someone they don't necessarily like.
DJ BLAZE –What are your areas of specialization?

ZAMANI THOMAS -I specialize in contract negotiation, development and formation along with Intellectual property law. Both of which I lecture as an adjunct professor in Miami.
DJ BLAZE -Are you able to represent Artists and Entertainers from anywhere around the world?

ZAMANI THOMAS -As an attorney I am only able to represent clients in Florida, but am able to represent clients from around the world from my Florida office. I also do a lot of work in Toronto, but do it as a consultant rather than an attorney; dealing with entertainers trying to get into America in various ways.
DJ BLAZE –Is there a cost for an initial consultation?
ZAMANI THOMAS -No I don't charge for initial consultations, however once I see the potential client is trying to get more than just a consultation, I may punch the clock and start charging (it's by the quarter hour by the way)…
DJ BLAZE -How much do you charge for your services and do you take cases on contingent fee basis?

ZAMANI THOMAS -I charge many times depending on the case, circumstance or issue. My regular rate for a general issue would be in the $275-325/hr range; however I do work with some of my clients who may not be able to afford that initially. I also many times am part of some of my client's businesses as a legal compliance or in a legal consultancy capacity. Contingency fees can be arranged for different issues as well.
DJ BLAZE -Is a client allowed to work on their case to keep the cost down?

ZAMANI THOMAS -Sure clients are always able to work on their case, however, once they come to be for legal advice, I advice them to let me handle the legal issues. If they want to work the case themselves, I would not feel comfortable being co-counsel with a non-lawyer.
DJ BLAZE -Are you the only attorney who works on cases brought to you?

ZAMANI THOMAS -Not necessarily, many times I either refer out some cases or work on them with co-counsel or of-counsel with other attorneys. It really depends on the case and issue and my capacity to handle it alone or with my team.
DJ BLAZE -A lot of people don't understand the importance of an Entertainment Attorney, and not just any type of lawyer, to negotiate contracts in this business. Can you share with us why this is important?

ZAMANI THOMAS -It is the same as anything else… you wouldn't get your teeth pulled or get a cavity filled by a foot doctor, or go to an elementary school math teacher to learn graduate school calculus. I have specialized in this field for close to 10 years now and so my network and experience count for something
DJ BLAZE -For people looking to retain an Entertainment Lawyer, what are some of the qualities they should look for?

ZAMANI THOMAS -You want to look for someone who has a strong network of people in the entertainment industry, as well as someone who has a clean disciplinary record. You can always ask around in the city or area you are looking for the assistance to find out the reputation of the attorney. In the end it is about honesty and reliability.
DJ BLAZE -At what point should an Artist or Entertainer hire a lawyer to negotiate for them?

ZAMANI THOMAS -Artists should at the very least have a consultation with an entertainment attorney right from the beginning. I have a saying that goes, "Pay an entertainment attorney a little at the beginning (when creating the contract), so you don't have to pay one a lot to get out of a bad contract at the end."
DJ BLAZE -If there is anything you would change about the Entertainment Business, what would it be and why?
ZAMANI THOMAS -I wouldn't change anything. To me the industry is what it is. Competition allows the cream to rise to the top and there is no industry more evident and pure to that notion than the entertainment industry. In the end it is about people liking what you do and if they don't, you won't be successful. Part of the success however is definitely putting a good team around you.
DJ BLAZE- So I know that you have many different business endeavors on the go right now. One of them being RATED Z Premium Liquor Mixer, Tell us more about RATED Z and you future business endeavors.
ZAMANI THOMAS -I am always looking forward to my next venture and one of my more successful ones to date is Rated Z Punch. We are no where close to where we want to be yet, however we are ahead of schedule in terms of our goals which is always a good thing, but not something to rest your laurels on. Rated Z Punch is a Premium alcohol mixer that was influenced by a recipe by my great grand father who hailed from the Island of Dominica W.I.
The Rated Z Team consists of 6 of us including, Kardinal Offishall, Sean Blackwood, Sean Ramnerine, Solitair and Kim Parnell. Depending on the event or situation, you may see any of us at a corporate event, party or in a music video repping the brand. We are looking for a bigger distribution deal in 2014, for now you can go to www.ratedzpunch.com and read all about the product and also order a bottle.
Other than Rated Z, I have also just finished being published in a great book about forgiveness and compassion, orchestrated by Tara Muldoon, who is the creator and executive director of the Forgiveness Project. That book you can order on Amazon. The book is called F-You: The Forgiveness Project – Memoirs of Violence and Compassion.
Blaze

Sunday August 25, 2013
ON THE WATCH
Posse Cuts
A Posse Cut to me can either break you or make you. REAL TALK! In this day and age in the Game we don't see too many rappers from different clicks and part of town getting together and destroying a sick beat due to the fact that the respect for one another is bogus and that some of the rappers in the Game today or afraid of a friendly competition from time to time. Back in the day that wasn't an issue, rappers from different clicks and hoods wanted to see how they could hold their own among some of the Heavy Hitters of there time. Shit was real back then, if you were a real lyricist then you jumped on the opportunity to showcase your skills amongst other lyricist alike bars for bars, especially if they (The Artist) called on you personally to jump on that particular track. REAL TALK! I tip my "B" hat to Big Sean for giving the Hip Hop World a sick track in "Control" featuring Kendrick Lamar and & Jay Electronica. This track is what the Game been missing, a "No Holds Bars" type of lyrical bravado friendly competition amongst one another and pushing all other rappers to step their "BARS" up. REAL TALK! Peep my DJ Blaze/Posse Cut set on my mixtape section and hear what "THE GAME BEEN MISSING".
Blaze
Monday  August 12, 2013
ON THE WATCH
It is said that the definition of a DIVA is a female singer who has enjoyed great popular success; now with that being said the woman that fits that criteria to a "T" in my eyes is non other then Queen "B" Beyoncé aka Sasha Fierce. This woman as not stop working since she first got her brake at the tender age of 16 as lead singer of the world's Best-Selling R&B Girl Group Destiny's Child. Has a group the girls of Destiny Child had all cemented there mark into the Game for many years to come but as a solo artist Queen '"B" had established herself has the unprecedented female version of a Hustla. REAL TALK! Her first LP "Dangerously In Love" released in 2003 brought in some serious hardware. Five Grammy Awards, 11 million copies sold; a Star/Diva is unleashed. Fast-forward to today, 15 years of a star-studded career, 4 very successful Album's, 118 million records sold as a solo artist, 17 Grammy Awards earned to date and one of the Best-Selling Music Artists of all time. REAL TALK! She sales out Arena's and Stadiums Worldwide, annihilates Billboard's charts across the board and is in steady rotation on Video and Radio play Internationally. That being said it's only right that the Queen be allowed to "talk that sh*t" on certain records to all her Haters still tripping of her well earned "FAME". Peep my DJ Blaze/ Beyoncé set on my mixtape section and listen to Queen "B" 's G'd Up side and Bow Down!
Blaze
Tuesday August 6, 2013
ON THE WATCH
Canada's Hip Hop and R&B artist representing the country to the fullest is non other then Mr. OVO's very own Drizzy Drake. REAL TALK! The Actor turned Rapper and Songwriter has carved himself quite a story telling career resembling the likes of Lebron James when he first stepped into the scene. REAL TALK! From the time Drake got put on he demanded your attention whether you liked him or not. The Kid got that "IT" factor that can't go unnoticed. With only 2 but very successful Albums under his belt to date, Drake has already established himself as "The Kid not to be F*ck with in the Game" REAL TALK! He constantly delivers hit records after hit records; and his feature game is ridiculous and unforgettable, Dude drops jewels' every time he drops a hot "16" His non stop work ethic and his will to be one of the best in the Game has already earned himself some serious hardware along the way; Three Juno Awards, six BET Awards and a Grammy Award to silence up all the HATERS. The Kid from Up North is making a Big Name for himself. REAL TALK! Be on the look out for his 3rd album titled "Nothing Was The Same" to be released sometime this September. Until then peep my DJ Blaze/Drake set on my mixtapes section and listen to the evolution of Drizzy Drake.
Blaze
Sunday July 7, 2013
ON THE WATCH
THE G.O.A.T.!
We are at the half way mark for the year 2013 and my Boy Hov has officially killed the competition for the rest of the year. REAL TALK! With his latest offering Magna Carta Holy Grail, Jay relives his past and present in such a vivid way you actually think you've lived it with him. REAL TALK! With 12 solo LP's to date under his belt, one can clearly see and appreciate his growth displayed throughout his ever growing catalog of hit records. To me Jay is the G.O.A.T. hands down! Love him or hate him Jay walks it like he talks it. Jay proves it to world once again that he hasn't lost a step in this here Rap Game. Hov is that "Blue Print" the "Michael Jordan" of the Hip Hop World, a Trendsetter a Brand, who's always been one step ahead of the Business aspect of things from day one. On Magna Carta Holy Grail Jay's swag is on 100 REAL TALK! He's in a good frame of mind right now and feeling good about where he's at in life in general but showing no signs of stopping anytime soon. If Jay is your competition you need to pay attention to how he delivers the REAL on his real life stories throughout M.C.H.G. School is in progress. Peep my DJ Blaze Jay-Z The G.O.A.T. Takeover set on my mixtape section and get a tutorial on how Hov is doing it Big Boy Style. REAL TALK!
Blaze
Sunday June 30, 2013
ON THE WATCH
Will.I.Am who is a founding member of The Black Eyed Peas, has crafted himself quite a career as a solo artist. With four solo LP's under his belt to date; one can clearly appreciate just how talented and gifted he really is. Being able to write and produce your own music can open up so many doors for an artist of his caliber. With such a futuristic mind, Will.I.Am is constantly pushing the boundaries of his creativity. His sound is electrifying and distinctive all in one. The Clubs and the Radio stations constantly keep him in rotation. The music that Will.I.Am creates is known and appreciated worldwide. His ear for the production side has also lured some of today's top notch artists in the Game to create some memorable collaborations such as; the late Michael Jackson, Rihanna, Usher, Justin Bieber and David Guetta, just to name a few. Will.I.Am's style of music is bound to make you move some how some way. Peep my DJ Blaze/Will.I.Am set on my mixtape section and feel the VIBE that I'm talking about.
Wednesday June 26, 2013
ON THE WATCH
Jay-Z's first artist signed to Roc Nation was J.Cole. As the No. 1 Draft pic to a newly formed Label the pressure to succeed and deliver doubles right out the gates.  REAL TALK! With the release of his second LP Born Sinner, Cole showed the world that hard work, patience and the dedication to achieve greatness pays off when you least expect it. REAL TALK! Born Sinner is a well-crafted LP from top to bottom.  Cole displayed growth and maturity in the way he crafted each and every song. Cole is definitely no slouch on the Mic cause this Dude came in hard with them Bars on those Beats. REAL TALK! With his swag on 100, Cole took it one step further and released his Born Sinner LP on the same day as Kanye West's Yeezus LP…. Now that's GANGSTA! Win or lose Cole's Born Sinner LP is a must have.  The body of work exhibited on this Album is serious and come award time J.Cole will undeniably cop some hardware off this tight LP, REAL TALK! "DON'T BE A SLEEPER" and make sure to cop your copy of the Born Sinner until then peep my DJ Blaze/J. Cole set on my mixtape section and peep what the HYPE is all about.
Friday June 21, 2013
ON THE WATCH
NBA Finals
There is a reason why teams work so hard to finish with the best record for the season in the NBA; that is for when the time comes and you actually make it to the playoffs and end up in the finals with a Game 7 on the line "The House" will carry you over to the finish line. The HEAT did just that last night and that was "DEFENDING THE HOUSE AT ALL COST" The HEAT captured their first Back 2 Back title and LeBron his second NBA Finals MVP. I tip my "B" hat to them Boys in Miami cause them Dudes came to play. This series was no "Cake Walk", the Spurs gave them all they could but going against "The House" and the 3 Headed Monsters was just too much for them to handle. It was a HELL of series from Game I to the final deciding Game 7. I congratulate the Miami Heat team for stepping up to the plate and defending their Championship like true winners they are. This was definitely a second title well earned.
Blaze
June 8 2013
ON THE WATCH
THE HYPE MAGAZINE Interviews CANADA'S DJ BLAZE
What is the significance of your name and how did you get that name?
I got my name back in the day when I was playing Ball on them courts in my college days. They use to say that I was BLAZIN IT UP whenever I step on the court so that name just stuck with me cause I do the same when I'm on them "12's"
Describe your style?
My style might be different from the norm considering I don't like to scream and shout on the mic…I like to let my music do the talking for me. I'm pretty versatile on them "12's" and I can "bob and weave" with the best of them when it comes to the music game. I try not to stay in a box and keep things moving depending on the vibe or the city I'm in.
What was the first record you start scratching and mixing on the turntables?
First off I'm not a trick DJ, that's not my thing but REAL TALK! my first record I started scratching with was Audio Two's Top Billin…that beat on that track was just ridiculous…
Describe the hip-hop scene in your city?
The Hip-Hop scene in my city is poppin…there's definitely a liking to the underground judging by the various acts that have come through the city to date.
What other artists have you had the opportunity to work with?
I've had the opportunity to spin along side a few Heavy Hitters of the likes of Big Kap, DJ Ace (New York), DJ G.I (Sproty Thievz) Max Glazer and NYC's DJ Mell Starr just to name a few.
Who and what are your influences?
My brother DJ Rudeboy, Kid Capri, Jay-Z the culture, the love of music and the whole scene of it all are some of the influences that helped shape me into the DJ I am today and of course "I Likes to Move the Crowd".
What should people expect from your upcoming projects?
Expect the unexpected from me cause when the vibe s just right my creativity just takes its course and my best work is usually is the end result.
What artists are you listening to right now?
My Man Jay-Z, Rick Ross, French Montana, Ace Hood…. just to name a few right now….
Who would you like to work with in the future?
I would like to work with DJ Kid Capri.
What would be the steps you would take as a DJ to Break a artists?
Depending on the style or genre of music I would mix it in with what's popping right now in some of my Blazinone.com mixes…drop it at the clubs during that Hype point of the night…. plug it in on the suggested tracks section on Blazinone.com. Do a write up about the up and coming artist on my what's Hot section and depending on the artist get a face to face interview or phone interview, and  keep it moving from there…
Are you currently with a radio station or DJ Club?
I did do the college radio thing way back, but now its all about the platform that my partner and I created to present myself and my work to the world on www.blazinone.com. There you can find some of my HEAT BANGER sets, TAKEOVER set and NIGHT CLUB OF THE FUTURE sets throughout the months. I also have a "Suggested Track" section for new or popping artists that I like. A "What's Hot" section where I like to post some of the things I like, and I also do write ups about artists that inspire me. I  also have the "Video" section of some of my favorite videos to date. I still do clubs all over whenever the business is "right" that is….
Is there anything you would like our readers to know?
I am CANADA'S DJ BLAZE! If you haven't heard of me yet then you need to keep your ears and eyes open cause MY TIME IS COMING!!!  Blazinone.com  #DONTBASLEEPER TUNE IN
Last but not least, HYPE wants to know…What's your CRAZIEST "Where they do that at?!"
REAL TALK! I don't think I've experience that moment yet but whenever that call from Europe comes in for the right booking, then that will definitely be my CRAZIEST moment to date…
Interviewed By: Just Jay
THE HYPE MAGAZINE
Wednesday June 5, 2013
ON THE WATCH
NBA FINALS
The 2 teams that will be representing their respective coast in the NBA Finals this year were now decided.   Representing the West Side will be the 4 times defending Champs The San Antonio Spurs. Fresh off a 4 games clinic of the Memphis Grizzlies, this Spurs team has once again defied father time and repositioned themselves has the team to beat. REAL TALK! The way they've approached each game in these playoffs with such poise and discipline is straight up intimidating (if you ask me).  These kats are for real and their game does all the talking for them.
Representing the East Side will be last years defending Champs The Miami Heat. Straight from a game 7 trashing of the No. 1 defensive team in Indiana Pacers, the HEAT have once again reaffirmed why they are one of the best defensive teams in the league PERIOD! Indiana simply couldn't match the HEAT's intensity and their aggressive play, but don't expect the same predicament from the Spurs come this Thursday night June 6, 2013, cause these Dudes in San Antonio play hard through-out the whole 48 minutes. REAL TALK! This year's Finals will definitely be a must see T.V.
Who will be the last team standing when all is said and done?
Blaze
Tuesday June 4, 2013
ON THE WATCH
The-Dream aka Radio Killa is a gifted artist whose credentials in the Game speak for itself. Dream is a successful R&B/Pop, singer-songwriter and recording producer with a mean pen game. His writing skills are so tight that in a short period of time Dream has already picked up 3 Grammy Awards from his Songwriting Credit alone, courtesy of Beyonce and Rihanna. In 2007 Dream came in with a BANG. He dropped his first studio LP in "Love Hate" and collected his first award as Best New Artist at the 2008 BET Awards. Personnel accolades aside Dream as successfully released 4 full lenghts LP's to date with his fifth recently released LP entitled "IV Play". Each of his preceding albums carried HEAT BANGERS. REAL TALK! Judging by his extensive collaboration book from then and now, it's clear that Mr. Radio Killa 's got some sure shots and hidden gems on his latest offering to keep his Radio play in steady rotation REAL TALK! For those who haven't yet sampled some of Dream's body of work, peep my DJ Blaze/The-Dream set on my mixtape sections and hear why The-Dream is the "Radio Killa" of the R&B Game.

Blaze
Sunday May 19, 2013
ON THE WATCH
NBA CONFERENCE FINALS
The NBA's version of their Final 4 is about to start. The 2 teams representing the West Side in the Western Conference Finals this year is the No.2 seeded San Antonio Spurs and the fifth-seeded Memphis Grizzlies. I have to tip my "B" hat to them Boys at Memphis cause these Dudes came to play. The way they dismantled the L.A. Clippers in the first round and then they out-hustled and eliminated the No. 1 seeded Oklahoma City in five games in the second round, shows me that these Dudes are seriously thinking NBA Finals. REAL TALK! They have a well grounded Team orientate with an old school swagg that matches up very well with the 4 times defending Champs San Antonio Spurs, now its about defining who will be the chosen one to represent the West in the NBA Finals come June!
The 2 teams representing the East Side in the Eastern Conference Final this year is the No. 1 seeded defending NBA Champs Miami Heat and the 3rd seeded Indiana Pacers. I can't front on them Dudes from Miami cause with only 1 lost between the first and second round combine, clearly shows me just how dominant and tight their game is. REAL TALK! Awaiting the Heat though is a hungry and determine Pacer team with a SERIOUS chip on their shoulders. The Heat eliminated the Pacers last May in the semifinals 4-2, with that being said the Indiana players are still choked over that series, therefore this rematch will most likely be quite exciting to see just how the Pacers plan on dethroning the defending Champs and take hold of that final spot in representing the East in the NBA Finals come June!
Let the Final 4 of the NBA Begin!!!
Blaze
ON THE WATCH
Friday May 10, 2013
Fila Grant Hill 2 Retro (Re-release)
These "96" Kicks stamped their mark back then has an iconic piece from that era. If you're a real sneaker head you know what kind of impact these shoes brought to the hoods all around. DON'T BE A SLEEPER and cop these limited retro's ASAP!!!
Blaze
Sunday May 5, 2013
This S**t is tighttttt!
Blaze
Sunday May 5, 2013
ON THE WATCH
NBA Playoffs 2013
The first round of the NBA Playoffs is officially over and teams that were predicted to move to the second round all folded to a disappointing finish. Houston, Denver, Lakers, Clippers, Milwaukee, Boston, Atlanta and Brooklyn, will all have some serious team reconstructions to do over the summer? Injuries to key players undeniably played a BIG factor into this years NBA season period. The first round of the Playoffs saw an end to an era and old rivalries decimated to this "New World Order" that the NBA as unleashed in the Playoffs. Now the question remains, which one of these teams will fold and rebuild or stick to their original Blue Print? The summer of 2013 will unquestionably be an important one concerning any one of these teams. Let the Conference finals begin!
Blaze
Thursday April 18, 2013
ON THE WATCH
NBA Playoffs
It's that time of the year again to show up or go home early REAL TALK! Any way you want to spin it, this year's basketball season was a HELL of a surprise to me. REAL TALK! I would have never predicted the All-star Squad that the Lakers possessed this year would have been walking into the Western Conference playoffs as a seven seed or that my beloved Celtics would have been crawling their way into the playoffs in the eighth and final spot in the Eastern Conference. (Unreal!!) True say; uncontrolled injuries to key players definitely played a SERIOUS factor in this year's season but if there's one thing I can't front on is the Miami Heat and their

3 Headed Monsters

. Them Dudes dominated through out the whole season REAL TALK! Their 27-Game winning streak put the league on notice that this year's playoff is going to be EPIC. Them Dudes over there in Miami are looking HUNGRY for that

O'Bryan Trophy. REAL TALK!

Now the Million Dollar question is "

Who is going to dethrone the Heat in their Quest to recapture that elusive peace of Gold?

"

Tune in to The NBA Playoffs,

which are set to start this Saturday April 20, 2013. Let the Games begin!!!
Blaze
Thursday March 28, 2013
ON THE WATCH
Forbes Hip Hop's Top 5 Wealthiest Artists
This year's Top Cash Cream Money Earner in the Game to date is none other then Mr. 3 Peat Cash King himself Diddy. Mr. Combs stayed true to the Game and kept his Hustle going non-stop through out the year to an estimated Net Worth of 580 million. REAL TALK!!! 2nd spot for the second time belongs to My Boy Jay with an estimated Net Worth of 475 Million and counting. Hov is a natural born Hustler with a keen eye for good Business so expects his numbers to be steady climbing come this time again next year. The 3rd spot belongs to Dr. Dre with an estimated Net Worth of 300 Million. His Dre Beats Headphones are still killing the Game and not showing any type of decline any time soon. YMCMB's Boss Birdman holds down the No. 4 spot with his estimated Net Worth of 150 Million. His Empire is growing by the day and so will his numbers come next year. Mr. "Get Rich or Die Trying" 50 Cent, is this year's 5fh Top Earner with an estimated Net Worth of 125 Million. With multiple new Business ventures on the go this year; Fif as manage to secure his position on the" I Get Money Club" for many years to come. Congrats goes out to all returning members
Wednesday March 20, 2013
ON THE WATCH
Justin Timberlake aka JT is a songwriter, dancer, record producer, actor and successful businessman who has established himself as one of the most commercially successful singers to ever do it this good in the Pop, Dance and R&B genres till this day. REAL TALK! With only 2 solo LP's dropped between the year 2002 and 2006, JT still solidified his position in the Game by dominating the charts worldwide and catering to the clubs and the radio stations along the way.  JT's work ethic, creativity and personal drive did not go unnoticed, as a solo artist JT pick up some esteemed hardware along the way, in 2006 he was the winner of 2 MTV Europe Music Awards for "Best Male Artist" and "Best Pop Artist". In 2007 JT was also Winner of four MTV Video Music Awards for "Male Artist Of The Year", Quadruple Threat of The Year, Best Director and Best Choreography. Judging from his production from his two previous Albums, one can clearly see how fearless and ingenious he was in staying ahead of the Game. With all the HYPE and anticipation surrounding the return of one of the BEST, one can only imagine what else JT has in store for his fans when his latest LP The 20/20 Experience hits the airwaves. Keep in mind that his latest LP is a two-part offering (10 songs now/10 songs later)—end result, 20 Vision. REAL TALK! Keep your ears and eyes open till then but in the meantime check out my DJ Blaze/Justin Timberlake set on my mixtape section and peep his evolution.
Blaze
Saturday March 9, 2013
ON THE WATCH
It's a new year and definitely a new era cause them peeps at MTV News' Hip Hop Brain Trust just caused another earth shattering earthquake in the Hip Hop world when they drop the BOMB by unveiling to the masses their version of the hottest 10 MC's In The Game for the past year 2012. The criteria required remained the same
1) Impact 2) Buzz 3) Sales 4) Lyrics 5) Swag 6) Intangibles.
MTV bestowed the Crown and the #1 Spot to Aftermath's Golden child artist Kendrick Lamar. Compton is unquestionably in the Building. K-Dot earned his #1 spot with an undivided decision from The Brain Trust Crew. REAL TALK! But from 2 to 10 these Dudes at MTV are definitely trying to uproar some s**t in the Game with that weak list.
1-Kendrick Lamar
2-2 Chainz
3-Rick Ross
4-Nas
5-Drake
6-Big Sean
7-Kanye West
8-A$AP Rockey
9-Future
10-Meek Mill
Blaze
Friday March 1, 2013
ON THE WATCH
New Edition
Members Bobby Brown, Ronnie DeVoe, Ricky Bell, Michael Bivins, Ralph Tresvant and Johnny Gill, together, formed one of the BADEST boy bands to ever do it this good, from the 1980s/1990s and up to this day still touring and recording as the group New Edition. Each member brought a different skill to the table. To me they were and still are the Originators of the Boy Band crusade of the past and present.  With 6 studios LP's, a mixture of hit records and possibly another LP in the making, one can't disregard these Kats own personal achievements as solo artists either, Ronnie, Ricky and Michael went on to form BBD and together released hit records from 1990 to 2001. Ralph Tresvant also went solo in 1990 and released 3 studio LP's between the years of 1990 and 2006 and along with that quite a few hot singles for the clubs and radio play. Johnny Gill who was added to the group in 1987 also did quite well for himself as a solo artist releasing six studio LP's from 1983 to 2011 and not to be outdone had quite a few hits himself in steady rotations. Bobby Brown who became the face of R&B in the early 90's took his opportunity as a solo artist and shaped himself quite an astonishing career ranging from 1986 to 2012. Bobby blessed us with a substantial amount of blazin hot singles still killing the clubs till this day. REAL TALK! Personal accolades aside NE as a unit is a force to be reckon with in this GAME, it was only fitting that last year at the Soul Train Awards, New Edition received the Lifetime Achievement Award for their contribution and longevity in this here R&B music GAME. Peep my DJ Blaze/New Edition set on my mixtape section and enjoy the ride down memory lane!
Blaze
Monday February 18, 2013
ON THE WATCH
So So Def
This music Game we live in can either break you or make you. REAL TALK! Some People come and go in this Game without ever being notice or appreciated. But once you've figured out the ins and outs of the business, the sky becomes your only limit. Jemaine Dupri did just that and never looked back. For those who don't know or haven't heard of JD, here is a quick run down. JD is a musical genius and one who's worn many hats in the Game and broke a lot of records in the Business. He's a Producer, Songwriter, Rapper and CEO of his own Record Label So So Def Recording. From 1992 till this present day, JD has help guide some of the careers of quite a few artists of the likes of, Kris Kross, Xscape, TLC, The Brat, Bow Wow and also worked and produce for the likes of Usher, Jagged Edge, Mariah Carey, Janet Jackson, and Monica just to name a few…Jemaine has a keen ear for music and a crazy eye for talent REAL TALK! With that being said you peeps should look up some of his newer artist coming out of the So So Def staples with the likes of Dondria, Leah Labelle and Fresco Kane. These kats along side JD are destined to hit the charts and cement their name in the Game just like his entire previous artist on So So Def. JD's entire career speaks for itself, the man is a hit maker who dominated the charts all year round, and I'm talking Number-one songs, Top-Ten hits, Top-Forty hits, name it he's done it…he's even taken the rmx Game and flip it in a way that can only be duplicated by some of todays producers…REAL TALK! As I write this write up Jermaine Dupri has once again reached another milestone to put under his belt as another personnel achievement. His Record Company So So Def Recording that he founded in 1992 has now reached the 20 Year mark, a feet only grasped by a hand full of people REAL TALK! JD survived the ups and downs of the music business and cemented his legacy once and for all.  Congratulation JD! To commemorate his latest achievement Jermaine Dupri will be hosting a So So Def 20th Anniversary Concert, which will take place on Saturday February 23, 2013 at Fox Theatre in Atlanta…. I'm sure its going to be a night to remember…peep the show if your still in the area but until then peep my DJ Blaze So So Def sets on my mixtape section and get familiar with your Boy JD!
Blaze
I'm feeling these Timepieces.
Wednesday September 12, 2012
Brooklyn Nets' Home Court Barclays Center
NOW THAT'S GANGSTA!
This court definitely has a presence not see in quite some time in the NBA and on November 1, 2012 the Brooklyn Nets will have the pleasure of blessing this court on opening season night against the New York Knicks.
PRICELESS
Sunday July 15, 2012
ON THE WATCH
ITS TIME!!!!
It's that "TIME" again for the "FEMCEE'S" to show face and bring it back one time full circle. I can feel it in the air right now REAL TALK! Its what the game's been missing. This is the year of the comebacks; I'm talking about them female game spitters and trend setters like Lauryn Hill, Missy Elliott, EVE, Brat, Foxy Brown, Lil Kim, Rah Digga, Sharrefa, Lady Luck, Jean Grae, Trina, Shawnna, even radio personnel Angie Martinez got bars for days. (And that's just to name a few) Presently speaking the new bread of "FEMCEE'S" head runner for the last couple of years and still going strong; is none other then Platinum selling artist Miss Nicki Minaj, she's definitely the new generations leader HANDS DOWN! But let's not get it twisted them new girls of the likes of Brianna, Dimond, Patwa, Honey Cocaine, Teyana Taylor, Lola Monroe and Iggy Azalea are not to be taken lightly, cause these girls stay on their grind and keep the internet hustle game buzzing all year round.  Its "TIME" for the female vets in the game and the new crop of "FEMCEE'S" to really show the Hip Hop world what impact and competitiveness these girls can bring to a male dominated industry. REAL TALK! Peep my DJ Blaze Ladies Night set (Pass and Present) on my mixtape section and see where I'm coming from with it.
Tuesday July 3, 2012
ON THE WATCH
In this month Source Magazine, the power to be took a jab at what they think The Top 50 Lyrical Leaders of all time should look like.  Now keep in mind that attempting to come up with such a list in this here Hip Hop game is a challenge within itself, now with that being said I was happy to read that this was by no mean their Hottest Mc's list cause REAL TALK that list would have needed some major reconstructing done (in my opinion). One key criteria needed for each MC's on this list was at least 2 LP's in their respectful careers. Now here's a quick run down of what their Lyrical Leaders looks like.
1-Rakim, 2-Nas, 3-The Notorious B.I.G., 4-Jay-Z, 5-2 Pac, 6-Eminem, 7-KRS-1, 8-Big Daddy Kane 9-Lauryn Hill, 10-Melle Mel, 11-LL Cool J, 12-Chuck D, 13-Andre 3000, 14-Ice Cube, 15-Slick Rick, 16-Scarface, 17-The D.O.C. 18-Kool G Rap, 19-Big Pun, 20-Q-Tip, 21-Redman, 22-Common, 23-Mos Def, 24-Jadakiss, 25-Queen Latifah, 26-Big L, 27-Pharoahe Monch 28-Talib Kweli, 29-Snoop Dogg, 30-Guru, 31-Kanye West, 32-Gza, 33-Method Man, 34-Black Thought, 35,Bun B, 36-Lil Wayne, 37-Busta Rhymes, 38-Posdnous, 39-Protigy, 40-T.I., 41-Fabolous, 42-Ludacris, 43-DMX, 44-Canibus, 45-Lil Kim, 46-Rick Ross, 47-Styles P, 48-Royce Da 5'9", 49-Lupe Fasco, 50-50 Cent.
Blaze
Friday June 22, 2012
ON THE WATCH
The 3-Headed Monsters (Wade, James and Bosh) along with the rest of the team have finally reached the NEED and the WANT that had deprived them the previous year. I tip my "B" hat to the Miami Heat for prevailing in an astonishing fashion. "KINGS" of the 2011/2012 NBA finals; Bron Bron came in these series real focus and determined not to fail. Homey filled up the stats sheets across the board with an average of 28.6 points, 10.2 boards and 7.4 dimes, the MVP of the series was definitely a no brainer REAL TALK! With 3 league MVP's, one series MVP and an NBA Title now under his belt, Bron Bron has finally silent all his critics (and me) and earned his seat among the all times greats has one of the best who's ever done it REAL TALK!
Monday June 11, 2012
ON THE WATCH
Celtics-Heat Game 7 will forever be remembered has the end of an era. I tip my "B" hat to the Miami Heat and their 3 Headed Monsters (Wade, James and Bosh) for qualifying for the final spot of the NBA Finals. My Celtics gave it a good run but the Fantastic 4 (Rondo, Ray, Pierce and Garnett) and the rest of the team couldn't close out the game and eventually fell to a better team on that night, but lets not get it twisted, REAL TALK my Celts went down fighting till the last call. While everybody had counted them out before the playoffs started, my Celts showed the world and all their NAY Sayers what toughness along with real good team chemistry could accomplish as a Strong Unit. Even though my Celts came up short in their final quest, the Blue Print has already been set for the next generation of Celtics to come and take over from where this great Celtics team left off. "ANYTHING IS POSSIBLE" (Kevin Garnett voice)
The Summer Jump off Party!!!!
The sounds of Canada's DJ BLAZE
@ Striker's Billiards Orleans June 23, 2012  ..
GIVE YOU WHAT YA'LL WANT >>
ON THE WATCH
Monday May 28, 2012
With the Celtics being both shorthanded and bang up, my Boyz were still able to grind it out Saturday night for a must win or go home game 7 vs the 76's er. REAL TALK! My Celts are back once again in the Eastern finals going head to head with the Miami Heat's 3 Headed Monsters (Wade, James and Bosh). These playoff games could be the last time I get to enjoy my version of the Fantastic 4 (Rondo, Ray, Pierce and Garnett) run and do battle side by side, with that be said I know my Boyz, bang up or not are going to give it their best and make this series one to be remembered for the ages to come. Their can only be one team representing the East in the NBA finals and on Monday night May 28, 2012, my Celts will be looking to start their quest and avenge there last year showing against the Heat by securing that last spot with a birth to the NBA Finals. "ANYTHING IS POSSIBLE" (Kevin Garnett voice)
Friday May 4, 2012
ON THE WATCH
It's been 2 decades since Nas first dropped his then classic LP Illmatic. No critics or peers could have ever predicted that this young kid from the Queensbridge project would have came out the gates with such an impact that the opposition had no choice but to embrace the slick talking, story telling, young hustler, new breed on the block shaking the game while gunning for that No. 1 Spot. Nas put Queensbridge back on the map and never looked back. REAL TALK! The music industry heads started to pay attention and in no time Nas became every Rappers favorite Rapper from the mid-90s till today.  His savvy delivery on the mic along with his New York swag, attracted all the hot hit makers in the game from the likes of Dr. Dre, Timbaland, DJ Premier, Swizz Beats, L.E.S., just to name a few. REAL TALK! When it comes to who's the best you ever heard; Nas is often mentioned amongst the top "Dead or Alive" to ever do it this good.  With 9 LP's under his belt and over 13 million records sold, Nas is gearing up to drop his 10th solo LP called "Life Is Good" which is slated to come out this summer, until then peep my DJ Blaze/Nas Takeover Set and see why Nas withstood the test of time.
Blaze
Friday April 20, 2012
ON THE WATCH
Forbes Hip Hop Wealthiest Artists
This week Forbes released their Top 5 Wealthiest Hip Hop Artists in the game and like the saying goes "men lie woman lie but numbers don't" check out who's coming up close to getting that No. 1 Spot to the Billionaires' Club. As of April 2012.The business man of the year is non other then the games Bad Boy P. Diddy who came in pushing his weight and Net Worth at an incredible 550 million. Jay comes in 2nd place not to be out done with his Net Worth of 460 Million. (Diddy better not get too comfortable up there cause my Boy Jay is definitely on his way up for that No. 1 Spot) Dr. Dre quietly took in the 3rd spot available with his Net Worth of 260 Million. Business has been good for the Doc its only right. Mister Cash Money aka the Birdman comes in at the 4th spot with his Net Worth of 125 Million. Cash Money Records is his goldmine right now and along with his other business ventures his stock can only go up. The final spot goes to 50 Cent who comes in with his Net Worth of 110 million. For someone who's been in the game for less then its 4 predecessor's, you have to admirer 50 's hustler mentality, which is "Get Rich or Die Trying". Regardless of who ends up being part of that Prestigious Billionaires' Club, the fact that these black entertainers are even mention or should I say acknowledged by Forbes, is an achievement on its own. I respect each and every one of them for their grind and dedication.
Blaze
Sunday April 1, 2012
ON THE WATCH
Snoop Dogg aka The Doggfather is a rapper, record producer and actor from the West Coast, who blazed himself quite a career under the leadership of another well known figure Dr. Dre. REAL TALK, you can't spell the West Coast without ever mentioning the name "Snoop Dogg". There's only a few of them in the game today from the old school to the new school doing it BIG while being relevant till this day and Snoop is definitely a HEAVYWEIGHT ICONIC VET still killing the game like he's a freshman on Campus. Snoop is not your typical rapper but one that is able to rock to any genre of music out there. There's a lot any new artist in the game could learn from just being around him. Snoop is a hard and driven worker and with the help of a successful music career has managed to BRAND himself in other profitable ventures like his own Snoop Dogg 40 Oz Malt Liquor, Adidas, Boost Mobile cell phone, Chrysler 300 and Snoop Dogg clothing, just to name a few.  With 11 well-received LP's under his belt, Snoop shows no sign of stopping any time soon. REAL TALK! Be on the lookout for his latest LP called Reincarnated due out some time this year, until then peep my DJ Blaze/Snoop Dogg Takeover set on my mixtapes section its another BANGER!!!
Blaze
Saturday March 3, 2012
ON THE WATCH
The Notorious B.I.G. aka Big Poppa, The Black Frank White, Biggie Small or B.I.G. was a rapper who officially stamped his name in the game when he first dropped his LP Ready To Die back on September 13, 1994. B.I.G.'s LP eventually went 4x Platinum and his presence at that time single-handily brought the EAST Coast Hip Hop scene back at a time when the WEST Coast was pushing real hard on the mainstream scene. B.I.G. who was the new kat from Brooklyn killing the streets, the clubs and the radio waves, had every rapper from the EAST/WEST and the SOUTH keeping a close eye on him.  Listening to B.I.G.'s tracks right now you can clearly see that Homey was a lifetime ahead of the game back then and although Biggie's career was cut short in 1997, B.I.G. was still able to acquire quite the hardware under his belt. The Source Awards, in 1995 awarded Biggie with New Artist of The Year (Solo), Album Of The Year, Lyricist Of The Year and Live Performer Of The Year. Also in 1995 The Billboard Music Awards, presented Biggie with the Rap Artist of the Year and than in 1998 The Soul Train Music Awards, bestowed Biggie with Best R&B/Soul Album Male for his Life After Death LP, which was certified Diamond by the RIAA back in 2000. Biggie simply was a BEAST; he could ride the mic with a different flow for whatever beat given. MTV ranked B.I.G. at #3 on their list of The Greatest MC's Of All Time. REAL TALK! We'll never know just how B.I.G. would have fared amid today's rappers but one thing is for sure; Biggie will definitely go down in the annals of Hip Hop History has one of the best who's ever done it hands down.  Peep my DJ Blaze/Biggie Small Takeover set. It's timeless!
Monday February 20, 2012
Its that time of the year again when MTV News' Hip Hop Brain Trust confuse the Hip Hop world by unveiling to the masses their version of the Hottest 10 MC's In The Game for 2011. The criteria required were as fallowed: 1) Impact 2) Buzz 3) Sales 4) Lyrics 5) Swag 6) Intangibles.
MTV bequeathed Ross with the #1 spot. REAL TALK! Ross definitely killed it in every criteria HANDS DOWN, (no dispute there) but from 2 to 10 we definitely need a referee in the Building for this one. Peep what I'm talking about.
1-Rick Ross
2-Drake
3-Kanye West
4-Nicki Minaj
5-Lil Wayne
6-Jay-Z (YOU CANT BE SERIOUS)
7-Meek Mill
8-Big Sean
9-Wiz Khalifa
10-Wale
Saturday February 4, 2012
ON THE WATCH
There's another rapper from the Bedford-Stuy neighborhood other then Jay-Z; who's paved himself quite the career in this here music game.  Your Boy Fabolous is one of the utmost consistent hard working Rappers in the game today. Fab as been in this game since 1998 and from the time he dropped his first verse on his first LP he's been blazin up the charts with HEAT BANGERS all the way through from his latest mixtapes. Fab knows how to keep his fans coming back anticipating more; If you got an R&B track in need of a hot 16, Fab is the guy to bless it right. As expected Fab always brings his A Game on every guest verse and never disappoints.  Fabolous is one of the most well rounded MC's in the game today; that is why in 2009, MTV rewarded Fab with a 8th spot ranking on their version of The Hottest MC's in the Game list. REAL TALK! Be on the look out for Fab's sixth LP due sometime this year. In the mean time peep my DJ Blaze/Fabolous Takeover Set its FABULOSO!!
Saturday February 4, 2012
ON THE WATCH
Pitbull aka Mr. Worldwide is not just a rapper, singer-songwriter and a record producer; he's a brand within himself who has managed in a short period of time to branch out all over the world while catering to all genre of music out there. I'm talking about Hip Hop, Urban, Latin, Pop and European. Pitbull's fan base is ridiculous and his style of music holds no boundaries. Mr. Worldwide is known to deliver hit records at a steady pace. REAL TALK! Check the charts across the board; Pitbull is constantly on the top 100, top ten in Canada, UK, Italy, France, The Netherlands and the European top 100. Clubs can't get enough of him; Radio stations have Mr. Worldwide in heavy rotation daily. Due to his positive influence in the entertainment industry; Pitbull will be receiving top honors at the 19th Annual BMI Awards show, which will take place this March, in Las Vegas. An award well deserved to a man who never stop believing in himself.  Peep my DJ Blaze/Pitbull Takeover set it's the TRUTH!!
Saturday January 28, 2012
ON THE WATCH
Rick Ross
Rick Ross just finished another chart topping year 2011. REAL TALK! I'm talking Clubs, Radio and the Hoods from coast to coast were rocking Rozay daily REAL HEAVY. Peeps need to appreciate Ross's work ethic and the quality of the work he's been able to put out for the masses to enjoy. Ross has been in high demand on the feature side; killing it alongside his own MMG crew, with R&B artists or his peers in the game looking to get a Rozay assisted sure shot banger.  Ross's business ventures also looked real good, his MMG Brand played a big part in carving a name for some of his artist from the camp who along side Rozay killed the R&B/HIP HOP charts. His presence was definitely felt in the year 2011.  Not even two back-to-back seizures suffered while touring could stop this man's drive to achieve and overpower the game. His hard work and dedication to his craft have not gone unnoticed, The Source Magazine named Rick Ross Man Of The Year 2011 for the 2nd time. A title well deserved to the BIGGEST BOSS in the game this far.  Be on the look out for Ross's 5th solo LP called "God Forgives I Don't" due out this year. Until then peep my DJ Blaze Rick Ross Takeover set on my mixtapes section, MMG is the Movement!
Monday January 16, 2012
ON THE WATCH
Chris Brown
Chris Brown aka Chris Breezy has been on a steady grind ever since the release of his mixtape colabo with Tyga titled Fan Of A Fan back in 2010.  We all know that Breezy can kill a mean vocal and tear the shit out of a dance floor but It's on that particular mixtape that Breezy stepped out of his usual box and experimented with rapping and showed us just how tight his delivery can be at lacing up a hot "16".  Breezy's no rookie when it comes to rapping and he definitely has what it takes to sell it to his fans. Breezy's been killing the charts all over the world; I'm talking by himself or has a feature, Breezy has been in high demand on the Radio in the Clubs and on the Talk Shows. At the 2011 BET Awards Chris Breezy received 6 nominations and walk away with 5 awards, including Best Male R&B Artists of the Year. At the BET Hip Hop Awards Breezy collected 3 more awards including The People's Champ Award. To top the year 2011 Breezy also won Album of the Year award with F.A.M.E. at the Soul Train Music Awards.  At the pace Chris Breezy's been working at right now, 2012 can only be another chart topping year for the dude. REAL TALK! Be on the look out for Breezy's 5th LP called Fortune due possibly in March. In the mean time peep my DJ Blaze/Chris Brown Takeover set on my mixtape section. It's Blazin.
Friday December 30 2011
ON THE WATCH
What started out in 1993 as a record company that was home to such artist as .The Notorious B.I.G., Faith Evans, Mase, and Graig Mack, has now grown into this fresher and up-to-date version dubbed Bad Boy 2.0. Alongside the current signing of New York's French Montana and Cleveland Ohio's Machine Gun Kelly; together with existing members Cassie and Red Café; Bad Boy 2.0. is primed and ready to take over the reigns as the tightest crew in the game today. With the recent release of Bad Boy's latest mix tape called Bad Boy Presents "The Preview" which is a showcase of different upcoming projects due for release in 2012 on the rejuvenated records label, Bad Boy is back in full effect, REAL TALK! Men lie Women lie but numbers don't. Do yourselves a favor and check out the top 100 Hip Hop/R&B charts across the board and I'm sure you'll find any one of these artists blazing up the charts on heavy rotation in the Clubs or Radio. The radar is definitely on them right now but I'm thinking my boy Red Café, is gearing up to shake NY on some Brooklyn tip where he will invite everyone to come fly with him all the way to the top of Bad Boy 2.0. Check out my DJ Blaze/Red Café Takeover set on my mixtapes section and peep how Mr. Café flips it one time for his city!
Blaze
Wednesday November 30, 2011
ON THE WATCH
There's been quite a few female MC's that have step foot in the game and made some noise but none have yet, new or old, been able to surpass or equal the success of Missy Elliott. Unlike today's female artists, Missy is a certified hit maker with a tight flow who writes her own songs and performs them in a way unmatched by her peers. Aside from being an artist Missy is also a producer, singer-songwriters, dancer and actress. Missy is a 5-time Grammy Award winner and is still the only female rapper to have 5 certified platinum albums by the RIAA till this day. With such a different and futuristic styles, Missy has always been able to produce hit records on each of her six previous LP's. Whit talk of her highly anticipated 7th schedule LP called Block Party, to possibly being release late 2011 early 2012, one can only expect top notch quality "HEAT" bangers from a seasoned female vet like Missy Elliott. REAL TALK!! Peep my DJ Blaze/Missy Elliott Takeover set on my mixtapes section and check out how lyrical my girl Missy can get.
Blaze
Saturday November 5, 2011
ON THE WATCH
Trey Songz
Trigga debuted 2 mix tapes on November 1, 2011, LemmeHolDatBeat2, which is a Hiphop/R&B mix tape and Anticipation 2, which is the R&B mix tape. REAL TALK! I don't understand why my man Trigga called them both mix tapes, these 2 freebees that Trey blessed us with are arguably better then half the shit that's coming out right now REAL TALK! On LemmeHolDatBeat2 Trigga's delivery is so tight and on point on them beats that I'm sure some of these rappers out right now are tripping over this R&B artist who can jump ship on any given day of the week and murk it. Trey is not just an R&B artist trying to rap; he does this for real and is believable. HIPHOP/R&B is the shit right now and my man Trigga is putting everybody on notice by killing every track he's rockin. REAL TALK! Thugs and Gangsta's can bump Trey's tracks and feel no way about it cause your Boy Trigga is the TRUTH with his…On Anticipation 2, Trigga shows everybody once again why he's called "Mr. Steal Ya Girl" The ladies love his swagga-oozing, charismatic freaky side. Trey definitely channels Kell's panty dropping styles of flow but with a twist of Trigga added to it to make this a memorable mix tape for the ladies to drool over until his 5th album Chapter 5 becomes available in 2012.
Blaze
Monday September 26, 2011
ON THE WATCH
Watch The Throne
This album is going down as an epic moment, the most important LP in the Hip Hop world hands down. Two of today's greatest in the game, have put their ego's aside to bring us, the fans another #1 LP to add to their ever growing list of personal achievements. Jay already showed us how two heavy weights from opposite sides of the game can get together and crush the music industry on some next level shit when he teamed up with the King of the R&B R.Kelly to bring us not one but two Best Of Both World LP's that changed the Hip Hop/R&B world for good. It's only right that the King of Hip Hop music shows us how to still be a King in this day and age and watch your Throne. Kanye West who is definitely an established heavy weight in the game in his own right, stepped his game up to show Jay, that he too could stand along side him and help him Watch The Throne as the last 2 Kings standing. Alone their accolade speaks for themselves but has a duo; Jay and Yeezy have just changed the game and created a new chapter in history. For all the hatters who wanted Jay and Yeezy to fail, do yourselves a favor and step your game up cause the Throne ain't for grabs. REAL TALK! Check out my DJ Blaze/Jay-Z and Kanye West Takeover set on my mixtapes section IT'S THE TRUTH!!
Blaze
Monday August 1, 2011
ON THE WATCH
Rick Ross and his newly acquired Maybach Music Group which consist of the new signees–Wale, Meek Mill, Pill and R&B singer Teedra Moses are ready to take on the music world as the next Super Group and challenge the other groups being formed as of late and stake their own claim as a group not to be reckon with. Real Talk! Ross has clearly established himself as one of the Heavy Hitters in the game hands down, but if you take a close look at who he has specifically acquired from new members to the original members you can clearly see that Ross had a plan from the get go; of how he wanted to shake up the music game. No disrespect to any of the other MMG members but Real Talk Ross got himself a couple of hidden gems in the crew that could shake the game up if used the right way. Your boy Meek Mill's is that dude right now; that's starving to get loose. Meek is definitely the next to blow out of MMG. The boy is a beast on the mic and shows no fear along side anybody on any track, his buzz alone speaks volume. He's got that "IT" factor for sure, Meek Mill is someone peeps should definitely keep their ears and eyes on in the months to come Real Talk! The other hidden gem is not a new member but an original from the get go, your boy Masspike Miles, the other R&B artist on the MMG. Miles got that real nice raspy R&B voice that is very distinguished and soothing at the same time. Miles is a very talented writer who's just one hit away from a break out year. Real Talk keep this Kat on your Radar he's definitely a sleeper on the come up!
Blaze
Sunday May 29, 2011
ON THE WATCH
Top 5 dead or alive is what his peers in the game have labeled him; Jada is a lyrical assassin on the mic, hands down, his flow along side his own distinctive raspy voice, sets him apart from all coming or going competitors in the game, REAL TALK! Kiss has been quietly putting in some serious work as of late, blessing some serious hot 16's on some crazy Hip Hop and R&B tracks. To be able to maneuver in and out of a tight Hip Hop/R&B track is not an easy task to do, only the best can pull that off but your Boy Kiss does it with such ease that you can't help but notice how gifted the man is when it comes to lacing up a tight track. Jada's new LP will be titled TOP 5 DEAD OR ALIVE, keep your ears and eyes open cause this LP is about to be FIRE!! Until then peep my DJ Blaze/JadaKiss R&B Takeover set on my mixtapes section ITS CRAZY!!!!
Blaze
Saturday April 30, 2011
ON THE WATCH
Usher; Know as Mr. International in the R&B game is a recording artist, dancer and actor who, similarly to R.kelly and Mary J. blige, still managed to stamp his name in the game as one of the elites in the R&B/HIP HOP/DANCE department. Usher is the first artist in 2010 to collect number one singles in 3 consecutive decades. His mainstream image as well as dance-heavy choreography music video has sprung his Global success to the next level. The man has dominated the International Charts at a steady pace never seen before. Usher is constantly pushing the boundaries of the game with no fear of experimenting with new or different genres of music to create a new sound. Whether it's in the US or Internationally, Usher's hits stay in heavy rotation in the club on the radio station or via music video stations worldwide. REAL TALK! Peep my DJ Blaze/Usher Takeover sets on my mix tapes section. It's BLAZIN!!
Blaze
Saturday April 16, 2011
Friday April 1, 2011
Saturday March 12, 2011
ON THE WATCH
There's a lot of male R&B artists in the game claiming to being the best out right now, granted some artists have the drive and the momentum to claim that feeling right now, but REAL TALK you can 't spell R&B without the R meaning Mr. R. Kelly, the dude from Chi Town that's been killing the airwaves since his debut in 1989. Kell's is an R&B singer-songwriter, arranger, performer, music video director and record producer. REAL TALK! The man is known for crafting some crazy hits and I'm not talking just on the R&B tip, with the help of some of the Heavy Hitters in the rap game Kell's was able to create a new lane in the game of Hip Hop/R&B and by doing so he raised the bar up and changed the whole concept of how Hip Hop/R&B should be received and appreciated. Till this day Kell's is still the Head Of State of the Hip Hop/R&B game REAL TALK! All the new artists coming out right now should stop throwing rocks at the Throne and instead take a page from Kell's music book and learn what it takes to stay and still be relevant in this game. REAL TALK! Check out my DJ Blaze/R.Kelly takeover set on my mixtapes section, its TIMELESS!!
Blaze
Friday February 11, 2011
ON THE WATCH
Saturday January 15, 2011
Monday January 3,2011
To all my Blazinone.com fans that follows Jay-Z and enjoy his music like I do, you all need to do yourselves a favor and cop that Decoded book. I've been a huge fan of Jay's and I'm talking before he blew up to the rest of the world. I always though I knew everything there was to know about Jay but after reading this book I felt like Jay gave us a more personnel look inside his brilliant mind and take on life has he sees it. In this book Jay brings us back to where it all begin, he gives us a vivid picture of what it was like growing up in Bed-Stuy Marcy projects and the sources of his inspiration. We as fans get to see Jay as the artist who then becomes the great entrepreneur/businessman we have grown to admirer. The depth of his rapping skills alone shook me, and I'm one who listens to Jay daily, but being able to read how he dissected some of his favorite tracks was a treat I couldn't believe I was receiving. The man is a genius and I enjoyed reading every part of the book from the start to the end. REAL TALK!! Peeps shouldn't sleep on this book cause it's a sure shot collectible.
Blaze
Sunday December 19, 2010
ON THE WATCH
Last Train To Paris is Diddy's 5th studio album but you'd never know it the way he's been on his grind promoting it like crazy. Diddy's been on every talk show, day and night, MTV News, 106 and Park for the whole week of December 13 to 17th, SNL, The View and even threw in a performance last night for the third annual WWE Tribute to the Troops of America. Diddy's been going at it hard and you really can't front on him. REAL TALK! Hate him or love him the man is a self-promotional team, the kind of dude you want on your team.  Although his first week sales have been predicted to be his lowest to come out to date, Peeps should still take notice of this Pioneers drive and self-motivation cause no amount of sales good/bad can teach you that, REAL TALK! Keep doing you Diddy I respect your grind. —Peep the LP it's tight!!
December 4, 2010
On The Watch

I've been watching the moves that Rick Ross has made since his first appearance back in 2006, and I gotta say that this dude is serious. Homey hasn't stop since he step foot in the game. The self proclaimed Boss of MIAMI and Hip Hop's heavy weight, is finally coming to his own and creating his own lane that can't go unnoticed by his peers.  REAL TALK! Ross has had countless hits blaring out in the clubs and on the radio, whether its him on his own or as a feature on R&B tracks, Ross comes in hard and delivers nothing less then hot topping chart tracks. The drive that Ross has displayed through out the year 2010 will definitely carry over to the New Year 2011 to come. Check out my DJ Blaze/Rick Ross takeover set and see what I'm talking about!
It's been quite a journey for my man Trey Songz, ever since he jump on the opportunity to open for Jay-Z in late 2009, Trey's life movement have been nothing but positive. He's swag has been on some next level shit, he's been dropping hits after hits and all of them have been chart-topping tracks for the clubs and for the radio. He's also been quite the guest feature on many heavy hitters A list like Diddy, Rick Ross, T.I., Fat Joe and Drake just to name a few. The man is killing the airwaves right now; this year has definitely been his best music wise. I expect nothing less from him for the New Year 2011. Keep doing ya thang Trey.
Blaze
Thursday November 11, 2010
The Starting 5
Today's topic, My Top 5 Guest Spitters
Whether it's Hip Hop/R&B or POP tracks. These Kats can really spits some shit and having them on your tracks can help push your stocks in the game. REAL TALK
First up is my man Hov, some may disagree for the simple fact that Hov is very selective when it comes down to doing features and he will break the bank with his, but lets be real, when the man blesses you with one of his verses it's a rap, having Jay on your track will make you step your own game up on the lyrical side. On the flip side of things your track is in HEAVY rotation whether it's in the club or on the radio.
Next up we have Busta Rhymes, one of the best in the game, he probably spits most of his best verses has a feature on tracks. His energy alone demands your attention, his verses makes you sit up the first time you hear it and press REPEAT!!
Next up we have my man Yeezy, Kanye is the type of feature that once you have him on your track you gotta be willing to loose your spotlight for a quick minute cause Homie goes in on you like his ready to murk you on your own shit!! REAL TALK.
Next up it's my man Luda, he's very versatile in a lot of area and very animated like a Busta Rhymes. He's been known to outshine a number of established artists and destroyed them on their own shit as a feature.
Next in line we have Weezy, the man has produced so many guest verses in such a short time that you could put out LP's out of all of them. Wayne rips up tracks like he owns the masters, and like the others on this list he's also destroyed his share of features to the point where they felt like abandoning ship.
Now you guys don't have to agree with whom I picked for my top guest spitters but lets be real, all of these Kats are well-established artists and respected in the game, a cosign from anyone of them can definitely help your exposure and if your budget is phat then you can shoot the video to help boost your own LP. REAL TALK
Blaze
Friday November 5, 2010
Welcome to the new edition of The Starting 5
Today's topic, Top Producers
If your looking for that radio friendly sound or that crazy club track that you can't seem to get out of your head, these are some of the producers you need to holla at, real talk:
First up we have Ryan Leslie (the sleeper of the game) super producer/ multi-instrumentalist, singer/rapper of the production game. Ryan has produce hot singles for a number of artists from Hip-Hop to R&B. I call him the sleeper of the game because this guy is a musical genius…. check out the Ryan Leslie/Fabolous set I got up on the mixtape section, this dude is serious!!
Next in line we have Jermaine Dupri, Grammy award winning, producer, songwriter/rapper. This man's track record speaks for himself. He's always looking to make you dance every chance he gets. He's always trying to craft that hit that makes all the club goers move.
Next up we have Super-producer Timbaland, an innovator who prides himself by staying ahead of the game with his unique trademark sound, which holds no boundaries. Radio loves him and the clubs can't get enough of him.
Next up we have Mr. West, producer, musician rapper/singer. Kanye's commercial success speaks volume in the music game, whether you love him or hate him, the man knows how to bang out hits. His futuristic style is like no other in the game.
Next up we have Swizz Beats, record producer, DJ/rapper. His production style and interesting ideas create crazy hype, whether you get him hyping up the track, on the chorus, or simply in the background, you're pretty much guaranteed some mainstream success.
At the end of the day no album is complete without a hit record, these hit makers or all CERTIFIED!!
Blaze
On a side note For all NBA fans out there, there's a must see game that real NB A heads can't miss. My Celtics vs Heat Tuesday October 26, 2010 on national television. The New Big 3 of Miami will be facing off with the Original Big 3 of the Celtics in the TD Garden. This will be a battle that will be nationally televised by TNT. There's allot of talk right now that this season's championship will be handed to the new Big 3 in Miami, but what the peeps need to realize is that Boston is one of the teams in the league that can seriously compete with the Heat about who will walk away Top Dog of the East. After all, to be Top Dog of the league you have to beat the West which have the Lakers as the defending champions. GO Celtics!!
For all my real Jay-Z fans out there, be on the look out for the creation of his book "Decoded". On Tuesday November 16, 2010, Mr. Shawn Carter and the Random House Publishing Group are gearing up to release The first official book written by the Multi-Platinum, 10 time Grammy award winning entrepreneur and icon. Decoded will take us through the lyrics and life of one of the most astonishing artists of our times. The book will be decoding 36 songs from his crazy list of hits to date. Random House will also be publishing Decoded as an ebook as well as an interactive iPhone/iPad application that will include exclusive video and customizable content that will allow users to experience a real up close and personal Decoded experience.
G.O.O.D. Music

On Friday October 15, 2010, BET, along with Big Tigga, gathered up some heavy hitters in the music game to discus and debate on who came out from the year 1999 and still maintained relevant in the 21st century. Now after viewing the list I can't really complain about whom they decided to place on the list but where some of them landed can and will probably be questionable.
BET'S TOP 10 21st CENTURY RAPPERS
1-Eminem
2-Lil Wayne
3-Kanye West
4-50 Cent
5-T.I.
6-Ludacris
7-Drake
8-Young Jeezy
9-Jadakiss
10-Rick Ross
Blaze
October 25, 2010

Its that time of the year again when MTV News' Hip Hop Brain Trust select their version of the Hottest 10 Mc's In The Game for 2010. Now, the criteria which they set forth consisted of the following:
-cultural influence
-rhyme skill,
-flow
-web presence
-buzz
-commercial success
-business ventures
After reading what it takes to be on that list, I was shocked to see the outcome of that discussion.
CHECK IT OUT
1-Eminem
2-Jay-Z
3-Kanye West
4-Drake
5-Rick Ross
6-Nicki Minaj
7-Lil Wayne
8-Waka Flocka Flame
9-B.O.B.
10-Ludacris
They can't be serious!!
Blaze