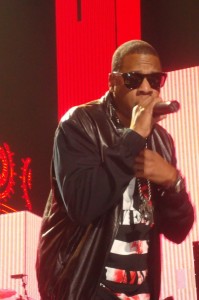 My Top 5 Guest Spitters
Whether it's Hip Hop/R&B or POP tracks. These Kats can really spits some shit and having them on your tracks can help push your stocks in the game. REAL TALK
First up is my man Hov, some may disagree for the simple fact that Hov is very selective when it comes down to doing features and he will break the bank with his, but lets be real, when the man blesses you with one of his verses it's a rap, having Jay on your track will make you step your own game up on the lyrical side. On the flip side of things your track is in HEAVY rotation whether it's in the club or on the radio.
Next up we have Busta Rhymes, one of the best in the game, he probably spits most of his best verses has a feature on tracks. His energy alone demands your attention, his verses makes you sit up the first time you hear it and press REPEAT!!
Next up we have my man Yeezy, Kanye is the type of feature that once you have him on your track you gotta be willing to loose your spotlight for a quick minute cause Homie goes in on you like his ready to murk you on your own shit!! REAL TALK.
Next up it's my man Luda, he's very versatile in a lot of area and very animated like a Busta Rhymes. He's been known to outshine a number of established artists and destroyed them on their own shit as a feature.
Next in line we have Weezy, the man has produced so many guest verses in such a short time that you could put out LP's out of all of them. Wayne rips up tracks like he owns the masters, and like the others on this list he's also destroyed his share of features to the point where they felt like abandoning ship.
Now you guys don't have to agree with whom I picked for my top guest spitters but lets be real, all of these Kats are well-established artists and respected in the game, a cosign from anyone of them can definitely help your exposure and if your budget is phat then you can shoot the video to help boost your own LP. REAL TALK
Blaze
On The Watch "Dj Blaze's Top 5 Guest Spitters"