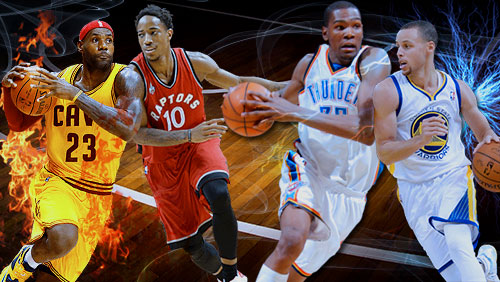 For the first time in their NBA existence our team from "Up North" The Toronto Raptors will be entering The NBA's version of the Final 4 has The No. 2 seed to do battle against the No 1 seeded Cleveland Cavaliers. It took The Raptors two series of Game 7 to reach The Eastern Conference Finals unlike the well-rested Cavs who swept their way through two series awaiting their next prey.
The Raptors have now proven to themselves that they are truly "battle ready" for whatever The Cavs bring to the table come Game night. With that being said The Cavs have been down this road before and they are the hunters looking to slay their next victims as quick as possible. The cohesiveness displayed by The Cavs in this Year Playoffs so far, is a testament of a Team on a mission, destination, The NBA Finals. Who will earn the honor of representing The Eastern Conference? Tune in Tuesday night May 17, 2016.
The No. 1 seeded Team in the NBA throughout the entire season has been The Golden State Warriors. They now hold the NBA Season record of (73-9) and if that wasn't enough, they also have the reigning 2-time KIA MVP player and first time scoring leader (30.1 points per game) in Stephen Curry. Nuff said! The only thing missing from this Historic Season is another NBA Championship at the end of the tunnel. Their roadblock in the Western Conference Finals is the 3rd seeded Oklahoma City Thunder.
Fresh of dismantling the 2nd seeded San Antonio Spurs; these Kats have demonstrated maturity, willpower and teamwork towards one common goal, an NBA Championship. This series will have a Finals type vibe, must see TV at its BEST. Tune in Monday night May 16, 2016.
Blaze
On The Watch "It's All About 2016 NBA CONFERENCE FINALS