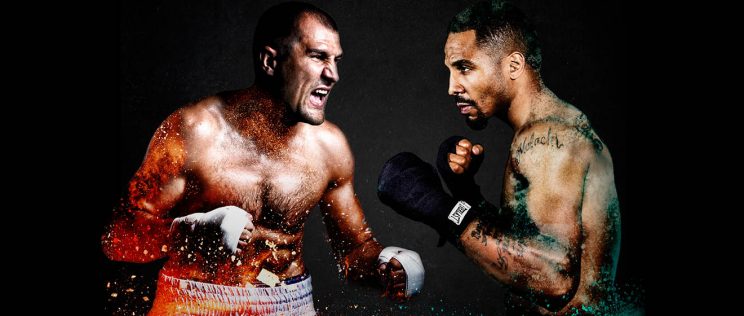 Kovalev vs Ward
Sergey Kovalev and Andre Ward, two of the top Pound-For-Pound fighters in the sport, are set to meet November 19, 2016 on HBO pay-per-view at the T-Mobile Arena, Las Vegas, Nevada. At stake are Sergey Kovalev's IBF, WBA and WBO Light Heavyweight Titles. There have been lots of talk going around the Boxing World as who is deserving of the Pound-for-Pound Crown since Mayweather departed on top. REAL TALK!
The Pound-For Pound King as of today is definitely a debatable question at this stage considering who has looked the most dominant in the game. Now if you're one to look at the different Pound-For-Pound lists out there you can clearly see that it's a difference of opinion at who is truly deserving. One thing you will notice though is that Sergey Kovalev and Andre Ward or both mentioned on any list out there. Both are unbeaten and Andre Ward (30-0,15 KOs) is coming up from the Middleweight Division to Light Heavyweight while Sergey Kovalev (30-0-1, 26 KOs) is a natural boxer at this level.
To me Andre Ward moving up in weight is an exclamation mark and a statement of just how much he is daring to be great at attempting to be the undisputed best in the Game. That being said this fight still stands as a 50/50 bout. REAL TALK!
Sergey Kovalev is well known and proven as the pulverizing puncher aka the "Krusher" the knockout artist who can definitely hold his own as a boxer type fighter if need be. Andre Ward S.O.G. is an old school throwback type fighter a master of defense the more cerebral type assassin of the two with an exceptional Boxing IQ. Truth be told both of these Dudes are bad asses when they step into that ring circle. REAL TALK!
On Saturday, November 19, 2016, only one of them will remain undefeated and possibly be Crowned one of the world's best Pound-For-Pound boxer. Neither man has faced an opponent like this before. The "Hype" and "Anticipation" surrounding this fight is "REAL" and the "HEAT" is on so tune in and witness history in the making.
Blaze
On The Watch "It's All About Kovalev vs Ward"