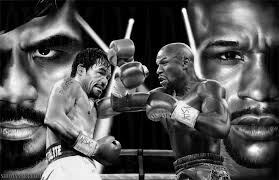 Mayweather/Pacquiao
The most anticipated boxing fight of the century is now set for Saturday May 2, 2015. Two of the "BADEST" pound-for-pound boxers will finally be facing each other at the MGM Grand in Las Vegas, Nevada. For those of us who can't do the trip keep in mind that HBO and Showtime have joined forces once again to also broadcast this Main Event on pay-per view.
On one side we have the undefeated five-division world champion and current WBA/WBC welterweight champion Money Mayweather Jr. (47-0, 26 KOs) putting it all on the line to challenge the first and only eight-division world champion and current WBO welterweight champion Manny Pacquiao (57-5-2, 38 KOs).
For the past 18 years Money Mayweather had succeeded in defending his titles and staying unbeaten due to the fact that he possess an impeccable boxing IQ to go along with his astounding defensive fighting style and being a proficient counter puncher. REAL TALK!
With that being said fans of Pacquio seem to think that his aggressive style, never back down mentality and his quick and powerful hand speed, are just the required tools needed to take down the self proclaimed "TBE" in Money Mayweather.
I see the May 2, 2015 Boxing Main Event between the two has Judgment Day; Two different styles from two very different boxers. Now the question remains, will accumulate wisdom out-knowledge in ring intelligence? Tune in Saturday May 2, 2015 and witness "greatness" at their best.
Blaze
On The Watch "It's All About Mayweather/Pacquiao"