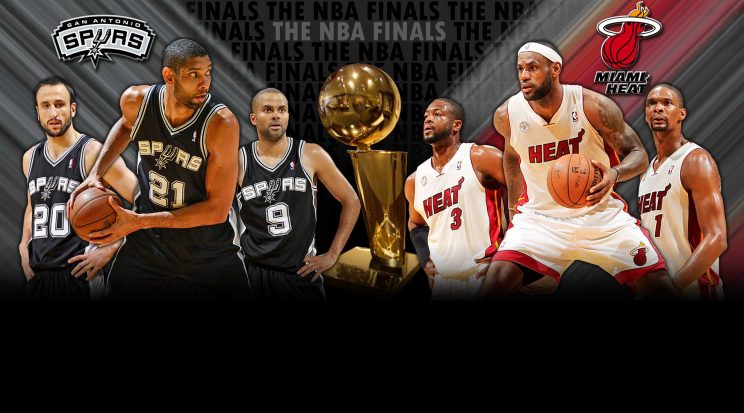 NBA FINALS 2014
The long awaited rematch between The Miami Heat/The San Antonio Spurs is now set. Both teams have a high expectation for them to execute a flawless series but there can only be 1 True winner for that O'Bryan Trophy.
On one side we have The Spurs who were stripped of their Fifth Title by the hand of The 3 Headed Monsters and company at last years Finals. Retribution has been on their mind ever since REAL HEAVY! This Spurs team may be facing Father Time but judging by their play throughout the season (62-20 No. 1 seed) and their convincing run throughout their playoff run to date, one can clearly see that they have probably figure out how to manipulate Father Time to their advantage by surrounding the team with some very good savvy players who play up to their potential to a "T" This well balanced experience team just might have the right tools to slay down The 3 Headed Monsters of The Miami Heat.
With that being said The Defending Back-to-Back Champs The Miami Heat are also looking to cement their name into the Record Books by becoming members of "The Three Peat Club" Love them or Hate them The Heat have established their Championship Level of play and they do rock the "Championship Belt" very well. REAL TALK!
The Heat has improved in every Championship run so for. With only 3 losses under their Belt in this years Playoff run to date, it has been clear that their mental toughness and clutch play has a team has improved dramatically game by game. Slaying The Miami Heat and The 3 Headed Monsters (Wade, James and Bosh) will not be easy but definitely worth the "HYPE" and "ATTENTION" given to see who will be adding their names to this year's 2014 NBA Records Books, has "King of The Court" of The 2014 NBA Finals Championship!
Tune in this Thursday night June 5, 2014 for Game 1 of the NBA Finals!
Blaze
On The Watch "It's All About NBA FINALS 2014"