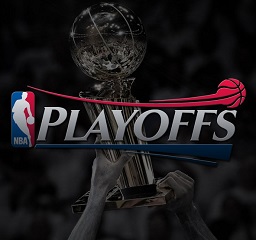 With the first round officially over, we can now focus on the second round of interesting match ups to come. Our team from Up North, The Toronto Raptors are finally moving forward and looking to "Ball Up" with The Miami Heat while The Atlanta Hawks will be having a deja vu moment once again in doing battle with The Cleveland Cavaliers.
The bad blood between the two is serious so we can definitely anticipate a heated series to see which Team will be battling it out to meet in the Eastern Conference. Some Western Conference Teams have had some serious setback; injuries once again have derailed some promising Teams of exploring their full potential, The L.A. Clippers suffered a lost that cost them the first round, while The Defending Champs The Golden State Warriors took a hit with Stephen Curry but were still focus enough to send The Houston Rockets packing early.
With Curry out for now Golden State is vulnerable but not out yet; judging by their first game onslaught which puts them up 1-0 in the series over The Trail Blazers, it will be up to Portland to figure it out quick and take advantage or be slayed.
The San Antonio Spurs will duke it out with the Young Gunners of Oklahoma City and has I write this write up The Spurs or up 1-0 over The Thunders and their first game was undeniably an exclamation mark type Game. REAL TALK! I'm looking forward to seeing how these series plays out! Tune In and witness the outcome.
Blaze
On The Watch "It's All About NBA PLAYOFFS CONFERENCES SEMIFINALS 2016 "