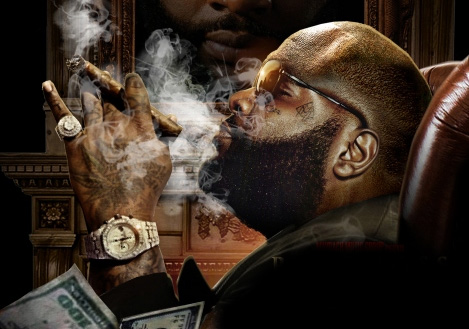 Rick Ross just finished another chart topping year 2011. REAL TALK! I'm talking Clubs, Radio and the Hoods from coast to coast were rocking Rozay daily REAL HEAVY. Peeps need to appreciate Ross's work ethic and the quality of the work he's been able to put out for the masses to enjoy.
Ross has been in high demand on the feature side; killing it alongside his own MMG crew, with R&B artists or his peers in the game looking to get a Rozay assisted sure shot banger. Ross's business ventures also looked real good, his MMG Brand played a big part in carving a name for some of his artist from the camp who along side Rozay killed the R&B/HIP HOP charts. His presence was definitely felt in the year 2011.
Not even two back-to-back seizures suffered while touring could stop this man's drive to achieve and overpower the game. His hard work and dedication to his craft have not gone unnoticed, The Source Magazine named Rick Ross Man Of The Year 2011 for the 2nd time. A title well deserved to the BIGGEST BOSS in the game this far.
Be on the look out for Ross's 5th solo LP called "God Forgives I Don't" due out this year. Until then peep my DJ Blaze Rick Ross Takeover set on my mixtapes section, MMG is the Movement!
Blaze
On The Watch "It's All About Rick Ross"