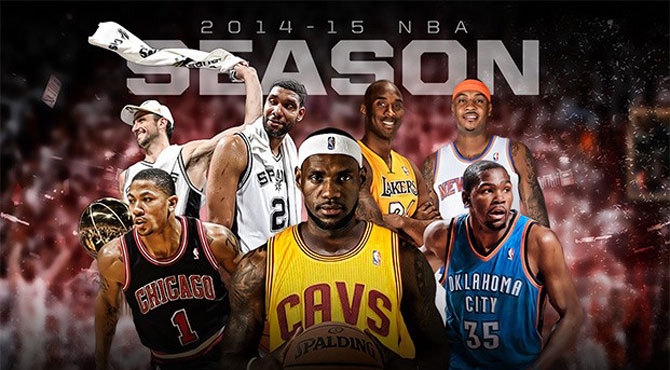 NBA Season 2014/2015
The San Antonio Spurs have officially re-entered The NBA Finals Sweepstakes once again by capturing their 5 NBA Championship in a very convincing manner for year 2014. The newly crowned Defending Champs will have their work cut out for them in this upcoming 2014/2015 NBA Season. Attempting to duplicate last years near-perfect NBA Season will most likely be the motivation needed to maintain focus throughout this year NBA Season.
The task at hand will be a struggle and a challenge within itself considering just how strong the West keeps on elevating year after year. With all the trades and injuries occurring throughout the summer and the preseason, the balance of POWER still resides on the WESTSIDE!! REAL TALK!
Last season 7 teams in the West won 50 or more games then the East who only managed to have 2 teams with 50 or more wins. NUFF SAID! With the relocation of LeBron James BACK to Cleveland, the second comeback of a healthy Derrick Rose, a motivated Carmelo Anthony and the surprising rise of The Washington Wizards, The Charlotte Hornets and our own Canadian Team in The Toronto Raptors, I anticipate this years EASTSIDE's win ratio PCT to improve dramatically.
The injury bug has already hit quite a few teams from the jump. The affected teams will feel the burn of it but injuries aside this NBA Season 2014/2015 will definitely be an interesting season to keep ours eyes and attention on and see who will benefit from all the Hollywood Shuffle that went on during the summer brake.
Tune in this Tuesday, October 28, 2014 for the beginning of another electrifying NBA Season!!
Blaze
On The Watch "It's All About The NBA Season 2014/2015"