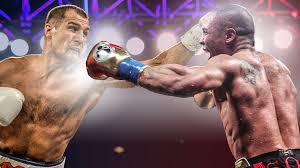 Last November 2016, the two Pound-For-Pound undefeated fighters took centre stage and battled it out for the full 12 rounds. On the line were the WBO, WBA and IBF Titles. The winner by unanimous decision and New Light Heavyweight Champion of the World, Andre S.O.G. Ward. All three Judges scored the fight 114-113 for Andre Ward. This was a 50/50 fight right off the jump. The "Hype" behind the first fight was must see TV. Real Talk!
The haters can say whatever they want but real is real. Ward came from behind a knockdown in the second round and fought his way back into the game in a strategic way. Since the previous fight was such a close one a rematch is the only way to appease the naysayers and truly find out who the true Light Heavyweight Pound-For-Pound Man in the Game is without any more uncertainty in any bodies mind out there. For Kovalev this rematch is more of a "revenge" fight for him. An opportunity to destroy Ward and recapture the Belts that he believes were stolen from him.
As for Ward he deems the right Man won that night and in this rematch he plans on completing the task at hand in a far more convincing fashion and retaining the WBO, WBA and IBF Titles with the rightful owner. Tune in this Saturday night June 17, 2017, HBO Boxing pay-per view live from Mandalay Bay Events Center in Las Vegas, Nevada. Ward vs Kovalev Take 2, who will triumph has the No. 1 Light Heavyweight Champ of the Division?
Blaze
On The Watch "It's All About Ward vs Kovalev Take 2"