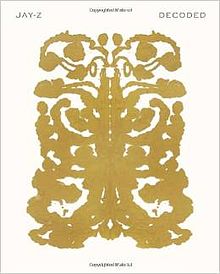 To all my Blazinone.com fans that follows Jay-Z and enjoy his music like I do, you all need to do yourselves a favor and cop that Decoded book. I've been a huge fan of Jay's and I'm talking before he blew up to the rest of the world.
I always though I knew everything there was to know about Jay but after reading this book I felt like Jay gave us a more personnel look inside his brilliant mind and take on life has he sees it. In this book Jay brings us back to where it all begin, he gives us a vivid picture of what it was like growing up in Bed-Stuy Marcy projects and the sources of his inspiration. We as fans get to see Jay as the artist who then becomes the great entrepreneur/businessman we have grown to admirer.
The depth of his rapping skills alone shook me, and I'm one who listens to Jay daily, but being able to read how he dissected some of his favorite tracks was a treat I couldn't believe I was receiving. The man is a genius and I enjoyed reading every part of the book from the start to the end. REAL TALK!! Peeps shouldn't sleep on this book cause it's a sure shot collectible.
Blaze
On The Watch "Jay- Z' s Book Decoded "