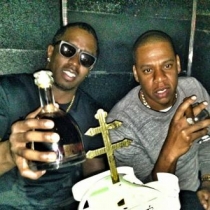 Forbes Hip Hop Wealthiest Artists
This week Forbes released their Top 5 Wealthiest Hip Hop Artists in the game and like the saying goes "men lie woman lie but numbers don't" check out who's coming up close to getting that No. 1 Spot to the Billionaires' Club. As of April 2012.The business man of the year is non other then the games Bad Boy P. Diddy who came in pushing his weight and Net Worth at an incredible 550 million.
Jay comes in 2nd place not to be out done with his Net Worth of 460 Million. (Diddy better not get too comfortable up there cause my Boy Jay is definitely on his way up for that No. 1 Spot) Dr. Dre quietly took in the 3rd spot available with his Net Worth of 260 Million. Business has been good for the Doc its only right.
Mister Cash Money aka the Birdman comes in at the 4th spot with his Net Worth of 125 Million. Cash Money Records is his goldmine right now and along with his other business ventures his stock can only go up. The final spot goes to 50 Cent who comes in with his Net Worth of 110 million. For someone who's been in the game for less then its 4 predecessor's, you have to admirer 50 's hustler mentality, which is "Get Rich or Die Trying".
Regardless of who ends up being part of that Prestigious Billionaires' Club, the fact that these black entertainers are even mention or should I say acknowledged by Forbes, is an achievement on its own. I respect each and every one of them for their grind and dedication.
Blaze
On The Watch "Forbes Top 5 Wealthiest Hip Hop Artists"