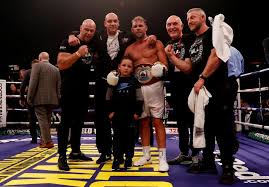 Reigning WBO Middleweight Champion
Tonight at London's Copper Box Arena, Billy Joe Saunders (25-0, 12Kos) successfully retained his WBO Middleweight Title in beating Willie Monroe Jr. (21-3, 6 Kos) with a twelve round unanimous decision. REAL TALK!
Billy looked calm, in control and never looking rattled or bothered by Willie. It was a boxing chess match in winch Billy's game plan was executed to perfection. I was quite disappointed to see how weak Monroe performed tonight knowing what was at stake if he won. Willie's offence was stagnating and lackadaisical. As the visiting fighter your game needs to be on point from the "jump". You can't afford to sit back and play the waiting game. He may have looked the part tonight but he did not show up to win in that squared circle.
With that being said I have to congratulate Billy Joe Saunders for his convincing win. Billy showed up in shape and performed well for someone who hadn't fought since December 2016. His improved stamina was very noticeable considering how he competed impressively in every round. With this win I'm eager to see how he follows it up. Will the winner of the Canelo/Golovkin call him out? Your thoughts on this one?
Blaze
On The Watch "Its All About Billy Joe Saunders"