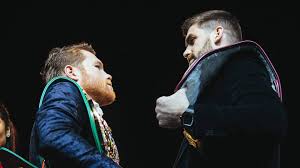 WBA Super Middleweight Challenge
Fresh off his biggest win to date against Gennady Golovkin for the Middleweight "Supremacy", Canelo (50-1-2, 34 Kos) has now decided to go one step higher towards the Super Middleweight Division and challenge Rocky Fielding (27-1, 15 Kos) for his WBA "Regular" Super Middleweight Title.
This will be a quick turnaround for Canelo considering he just came back from a war with "GGG" last September, but the thought of making his first appearance at the historic Madison Square Garden Saturday December 15, 2018, has motivated him to make history and to be one of the top 10 Mexican fighters to become a Three-Division World Champion.
The boxing critics will be out there voicing their displeasure on Canelo challenging WBA "Regular" Super Middleweight Champion Rocky, but truth be told this bout will not be a cake walk for Canelo. Rocky will have a great size advantage on him to go along with his height and reach.
To me, this is an intriguing fight where Canelo will definitely be out of his usual comfort zone. Alvarez is one of the best technical Pound-for-Pound boxers in the "Game" to date so Rocky will unquestionably have his hands full trying to retain his WBA "Regular" Super Middleweight belt. As it stands right now Rocky will be the underdog against Canelo. However, this bout is an immense opportunity for Rocky and if he were to pull off a major upset on the biggest stage of his career by dethroning the face of Boxing in Canelo that is, this could be a life changing moment for Fielding that could positively catapult his career to new heights.
This is uncharted territory for both combatants but the risk vs reward for both competitors makes this bout that much attractive.
Madison Square Garden Saturday night December 15, 2018 is the place to be at but you can definitely cop this bout on the DAZN streaming app.
Blaze
On The Watch "Its All About Canelo Alvarez vs Rocky Fielding"