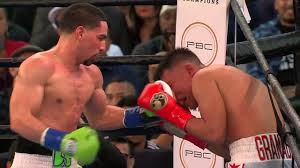 Welterweight Challenge
Last night's Main Event at the Dignity Health Sports Park in Carson, California was well worth it.
Danny Garcia (35-2, 21 Kos) showed up and reaffirmed his position in the Welterweight Division by being the only fighter to date to administer Adrian Grenados (20-7-2, 14 Kos) his first defeat by knockout. Real Talk!
Danny got busy from the jump and laid some heavy gloves on Grenados and dropped him twice in the second round. The first knockdown came off a heavy precise left hand, while the second knockdown came from a well-timed right hand. Your Boy Danny was on point and had that hunger back in his eyes.
It looked like Granados miscalculated his approach last night and in doing so got dismantled by Garcia who was determined to put the hurting on him. It was a statement bout that Garcia desperately needed and in stopping a tough and rugged Grenados the way that he did was very impressive.
By round 7, the referee had seen enough and jumped in and pulled the plug. Grenados was looking like a punching bag getting hit with some real heavy shots from left to right. There was no coming back at this point. Danny had convincingly proved his point. Garcia is back and looking for that smoke!
With this win Danny may have secured himself a rematch with Sean Porter for the WBC Welterweight Title. However, Danny has made it clear that he's calling out all Champions in the Welterweight Division.
Until then, congratulations on your win Danny, now keep the momentum going.
Blaze
On The Watch "Its All About Danny Garcia vs Adrian Grenados"