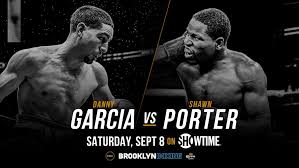 WBC Welterweight World Championship
It's on and popping! Two of the top former Welterweight Champions in Danny "Swift" Garcia (34-1, 20 Kos) and Shawn "Showtime" Porter (28-2-1, 17 Kos) are set to do battle for the vacant WBC World Championship, live on SHOWTIME, Saturday September 8, 2018, in a Premier Boxing Champions event from the Barclays.
To me, this bout has the potential of being a Fight of The Year nominee if both combatants bring their "A" Game and come correct with no bullsh*t excuses. Both have caught a respectable decision loss to Keith Thurman but aside from that still remain on top of the food chain.
With Keith Thurman sidelined for now, the No.1 spot in the Welterweight Division is up for grabs and these two "pitbulls" are willing and ready to find out who the best is between them. No shortage of confidence from neither warrior here. Styles make fights so none-stop action is guaranteed when these two bump fist-to-fist inside that squared circle.
Both fighters have been carrying heavy chips on their shoulders since their last loss. The pressure and the buildup to recovering a World Title is real heavy on them both but a win in Brooklyn on that Saturday September 8, 2018 will depend on who has the better game plan and can execute it the best without falling short of hesitation.
The stakes are high for them boys. Real Talk. It's a very intriguing 50/50 fight whichever way you want to look at it. It's must see boxing at its best. It's not often we get to see two A+ skillful and high boxing IQ fighters that can bang it out and brawl with the best of them on the same stage. That being said, who will prevail when all is said and done?
Don't miss the action, on SHOWTIME, Saturday September 8, 2018. Brooklyn stand up!
Blaze
On The Watch "Its All About Danny Garcia vs Shawn Porter"