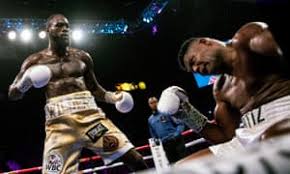 WBC Heavyweight Challenge
Don't blink! -Is what the WBC Heavyweight Champion Deontay Wilder (42-0-1, 41 Kos) said before defending his WBC Heavyweight Championship Title last night against Heavyweight contender Luis Ortiz (32-2, 26 Kos) at the MGM Grand in Las Vegas. The "Bronze Bomber" spoke it into existence when he knocked out "King Kong" for the count. Real Talk!
A slim and trim, focussed Ortiz stepped inside that squared circle last night and executed his "game plan" to perfection. He boxed beautifully, composed, sure of himself and was clearly winning every round from 1 to 6 hands down until round 7.
Wilder, who had zero offence throughout the first 6 rounds only needed one opening, one second, one well- connected demoralizing right hand "Bomb" to close the show in round 7. Once Wilder connected, Ortiz could not recover in time to beat the count. Just like that, Ortiz's hard work to that point went out the ring.
Your Boy Wilder is a real problem to the Heavyweight Division. That Thanos-type power that he carries in that right hand is the "End Game" whenever he connects. Once again Deontay has put the entire Heavyweight Division on notice. Good luck to the competition. Whomever wants to take the WBC route to the Championship Belt needs to be mentally and physically prepared and even with that in mind, there is no guarantee you will succeed once you enter that squared circle and Deontay Wilder in standing across the ring from you.
Until your next contestant, congratulations on your win Champ.
Blaze
On The Watch "Its All About Deontay Wilder vs Luis Ortiz 2″