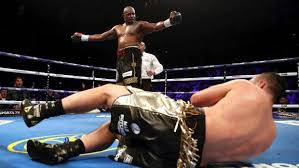 Heavyweight Collision
Tonight, the fans at the O2 Arena in London were privileged to see two top Heavyweights in Dillian "The Body Snatcher" Whyte (24-1, 17 Kos) and Joseph Parker (24-2, 18 Kos) go at it in a very thrilling and dramatic bout. Real Talk!
I gotta tip my "B" hat to Dillian for taking it to Parker head on and beating him by unanimous decision. As it stands, Dillian is the only man to put Parker down, not once but twice in his entire boxing career. I was very impressed with the way Dillian was working over Parker, the more experienced of the two.
It took the whole 12 rounds, a late Parker rally and an emphatic finish to secure the win but "DAMN" it was a good show.
As the fight wore on I couldn't help but notice how Parker may have underestimated Dilian's abilities inside that squared circle. To me Parker looked disengaged, lethargic, tired and simply not himself inside that ring. Although he put up a decent fight this was definitely not his best work to date. Parker desperately needed to win this fight tonight to be put back in the Heavyweight contingency but failed with the game plan at hand. He did however manage to put Dillian down in a breathtaking 12th round but was unable to close out the show.
Stamina played a big role in tonight's bout for both fighters but "The Body Snatcher" secured his victory with the two heavy headed knockdowns along with the better work rate. Dillian came to box; it wasn't the prettiest fight but definitely engaging all the way to the end.
Tonight, Dillian's stock has unquestionably risen in the Heavyweight Division and rightfully deserving of it.
Congratulations Dillian on an impressive win, now on to the next.
Blaze
On The Watch "Its All About Dillian Whyte vs Joseph Parker"