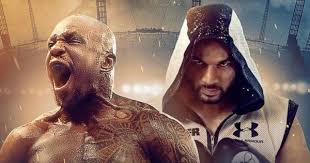 Heavyweight Collision
I didn't see this one coming, not anytime soon anyways! It's now been announced that Dillian Whyte (23-1, 17 Kos) vs Joseph Parker (24-1, 18 kos) will meet in a Heavyweight bout at the O2 Arena in London July 28, 2018, live on Sky Sports Box Office.
I'm surprise that these two agreed to duke it out. Next to both having fought Anthony Joshua and losing, this will be their toughest fight to date and a very good opportunity for the both of them.
Whyte has shown some real steady improvement from bout to bout since his only defeat to AJ. The momentum he's been carrying so far has been quite impressive. Dillian has definitely showed the rest of the Heavyweight Division that he is not to be taken lightly.
As for Parker, who lost his WBO Belt to AJ last March, a bounce back win here would most likely put him back up in the Heavyweight contention.
This is a dangerous fight for either fighter. Looking at Parker it's clear that he is the younger, possibly the stronger, faster and definitely the more mobile of the two combatants. That being said, Whyte is the "Body Snatcher" with underrated power to go along with his come forward tactics that usually gets the job done inside that squared circle.
To me this is a risky but most likely very entertaining 50/50 fight. Two top 10 Heavyweights that are hungry, motivated and willing to lay it all on the line. The type of bout that will give the winner major bragging rights along with a major shift in the Heavyweight Division.
No short cuts here, these two combatants are looking for a world title shot by taking the most dangerous fight available. Nuff Said!
Tune in Saturday July 28, 2018 live on Sky Sports Box Office.
Blaze
On The Watch "Its All About Dillian Whyte vs Joseph Parker"