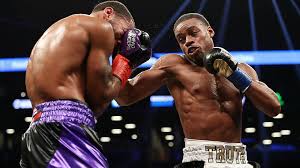 SHOWTIME CHAMPIONSHIP BOXING
IBF Welterweight Championship
Last night, at the Barclays Center in Brooklyn, New York, Errol Spence Jr. (23-0, 20 Kos) successfully retained his IBF Welterweight Belt with a one-sided beat down TKO win over Lamont Peterson (35-4-1, 17 Kos). Lamont's corner pulled the plug before the start of the eight round. REAL TALK!
I expected this bout to be more competitive but EJ was simply too strong and too proficient for Lamont to handle. EJ controlled every round from the jump. He showed incredible poise and clearly executed the game plan at hand to a "T". Lamont showed up and gave it his best shot but the young gunner's steady aggressive style was overwhelming Lamont round by round.
Sh*t wasn't looking good at all for Lamont. To me it looked like EJ was toying with a sparring partner instead of a world-class opponent in Lamont. REAL TALK!
EJ is definitely the "Truth" in that squared circle and he's only getting better bout-to-bout. He's a serious problem for the Welterweight Division hands down. That being said I can't wait to see who's gonna step up to the plate and attempt at derailing this kid. Good luck to the opposition.
Until then congratulations on your win Champ.
Blaze
On The Watch "Its All About Errol Spence Jr. vs Lamont Peterson"