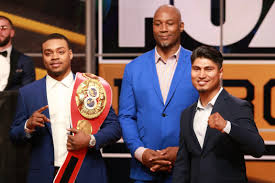 IBF Welterweight Challenge
Ask and you shall receive. It's now officially been announced; the highly questionable match up between IBF Welterweight Champion Errol Spence Jr. (24-0, 21 Kos) and WBC Lightweight Champion Mikey Garcia (39-0, 30 Kos) is scheduled to take place on March 16, 2019 at AT&T Stadium in Arlington, Texas.
Mikey is a proven and established warrior who's held World Titles at Featherweight, Super Featherweight, Lightweight and Super Lightweight. With this challenge ahead, he is now looking to claim a Title in his fifth weight class Division by attempting to dethrone IBF Welterweight Champion Errol Spence Jr.
Mikey has been calling for this fight for a minute now and the call has finally been answered. To me this is a tough task considering Mikey will be going up two weight Divisions to take on Errol. Real Talk! I personally rate Mikey as pound-for-pound one of the best within his primary weight class in this era hands down but taking on the "Boogie Man" of the Welterweight Division is a challenge beyond belief.
The weight difference between the two combatants is a major factor. Mikey won't just be dealing with a heavier Dude but also one that carries crack with every punch he throws. I know that styles make fights and that Mikey is technically sound and strong within his own right but the size and power that Errol walks with might just be too much for Mikey inside that squared circle.
That being said, if Mikey were to pull off the unthinkable and give Spence his first loss, he would be joining a prestigious circle of the likes of Sugar Ray Lenard, Tommy Hearns, Oscar de la Hoya, Manny Pacquiao and Floyd Mayweather Jr. who've all won World Titles in five different weight classes. Not bad company if you ask me.
On paper and amongst the boxing community, Spence looks like a clear winner. It will be up to Garcia to prove all the naysayers and doubters wrong come fight night. Will the little man beat the bigger guy?
Tune in Saturday night March 16, 2019 on FOX pay-per-view and witness possibly the most intriguing bout of the New Year.
Blaze
On The Watch "Its All About Errol Spence Jr. vs Mikey Garcia"