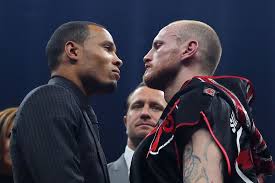 World Boxing Super Series (WBSS)
In his first fight of the World Boxing Super Series Saturday night October 14, 2017, George Groves' (27-3, 20 Kos) number one seed and WBA Super Middleweight Titleholder successfully defended his title by knocking out previously undefeated challenger Jamie Cox (24-1 13 Kos) in just four rounds at Wembley Arena in London, United Kingdom. Congratulations George for this emphatic statement.
To me size and experience played a major factor in this bout. Jamie Cox looked good in short spurts but definitely not long enough to do any serious damage to Groves.
Tonight George was just too strong and physical for a limited and inexperienced Jamie Cox. Maybe the stage and the moment were just too much for Cox to take in.
With this win Groves will now advance to the World Boxing Super Series Semi-Finals where a very eager fellow British countryman, IBO Super Middleweight Titleholder Chris "Next Gen" Eubank Jr. (26-1, 20 Kos) is awaiting to take his beloved WBA strap away from him.
The Semi-Finals of the World Boxing Super Series Groves vs Eubank Jr., in January or February if all goes according to plan will be a very intriguing fight considering they have past sparring history with stories for days depending on who you ask.
Styles make fights and this domestic bout between them two Kats on such a big stage is bound to be breathtaking. Eubank Jr. is the newbie in the Middleweight Division while Groves has been vacationing in the Division far longer then him. Groves is the No. 1 seed in the tournament trying to carve his name in the History books while Eubank Jr. is on a mission of attempting to take over the Division the only way he knows how with a high work rate style unmatched by his opponent.
When this bout comes into fruition it might just be the most highly anticipated matched up of the World Boxing Super Series. Your thoughts on this one?
Blaze
On The Watch "Its All About George Groves vs Chris Eubank Jr."