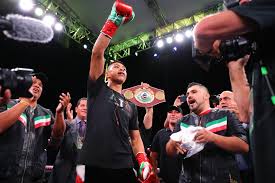 Middleweight Challenge
Last night's DAZN's Main Event at the Alamodome in San Antonio Texas between Jaime Munguia (35-0, 28 Kos) and Spike O'Sullivan (30-4, 21 Kos) did not disappoint.
Munguia, in his first Middleweight debut, asserted himself quite well against the tough and seasoned veteran O'Sullivan. It wasn't a walk-in park for Munguia but a stiff challenge type introduction to letting him know what is to come in the 160-Pound Division.
Spike did his best at keeping up with Munguia and making it quite interesting in the early rounds with his counter punches but as the rounds wore on Munguia started to feel more and more comfortable in there. Munguia showed improvement with his speed and movement but the main and obvious factor causing Spike all his problems was Munguia's power. Munguia's steady jab and overhand right was landing at will last night and Spike had no real answer for it.
Although Spike showed tough grit in there and the willingness to compete, the non-stop onslaught he was receiving by the 11th round had him out on his feet which then prompted O'Sullivan's corner to throw in the towel.
With his first win at the Middleweight Division, Jaime Munguia has officially arrived. His youth, size, speed and strength appear to fit the 160-Pound Division just right. The Kid is nice with it and feeling himself rightfully so. But calling for all that smoke with all the Champions at the Middleweight Division (not called Demetrius Andrade) might be a step too early.
That said, congratulations on your victory Jaime, I can't wait to see who will step up to the plate and accept that challenge.
Blaze
On The Watch "Its All About Jaime Munguia vs Spike O'Sullivan"