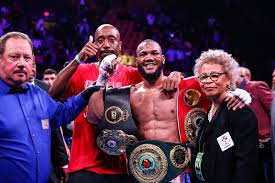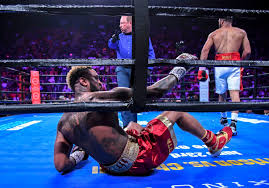 IBF/IBO/WBA Junior Middleweight Challenge
The Junior Middleweight Division is "Blazing Hot" right now. Last night's Main Event at the EagleBank Arena, in Fairfax, Virginia, between IBF/IBO/WBA Super Junior Middleweight Champion Jarrett Hurd (23-1, 16 Kos) and Julian Williams (27-1-1, 16 Kos) was a thing of beauty. Real Talk!
J-Rock who was a 5-1 underdog from the jump, walked into the Champion's own turf (game 7 style) and claimed all the gold by defeating Hurd by unanimous decision with the scores off 116-111, 115-112 and 115-112. Unbelievable!
J-Rock's performance was on point from the jump. He executed their "game plan" to a "T". Julian was calm, focused and definitely well prepared physically and mentally. Being visibly smaller than Jarrett, Julian still had enough power nice and early to drop Hurd down for an 8 count in the second round.
To me, that was the game changing moment right there. From that point on, them two warriors entered the phone booth and exchanged some serious leather back and forth. The up close and personal style usually favours Hurd but, on this night, J-Rock had his number.
Round by round Williams stayed busy with his hands at all times. His defence was tight and making Hurd miss while still staying composed whenever Hurd did land something of significance.
Williams went toe to toe with the heavy fisted Champion "Swift" Jarrett Hurd and out boxed him at his own game. Hurd took a lot of punishment last night and it cost him dearly as the rounds wore on.
Personally, I'm thinking Jarrett underestimated J-Rock's ring generalship and in doing so succumbed to his first professional loss.
That being said, with this win, Julian is now the New IBF/IBO/WBA Super Unified Junior Middleweight Champion. A feat well deserved.
Congratulations Julian, you defied the odds and fulfilled your dreams of becoming a Champion.
Blaze
On The Watch "Its All About Jarrett Hurd vs Julian Williams"